Hardcore New York Giants fans should check out the New York Giants Extra Points Credit Card. This card demands no annual fee, while offering cardholders 20% off all purchases at NFLShop.com, and 2 reward points per $1 spent on NFL tickets, at the NFL store and on other NFL-related purchases. Not only that, users receive 1 reward point per $1 spent on all other purchases, and signup bonus of 10,000 after you make $500 in purchases and a signup bonus of 10,000 points after $500 is spent within the first 3 billing cycles. This signup bonus will provide you with enough points for you to redeem for $100 cash back! The APR will be assigned at 15.24%, 20.24% or 25.24%, depending on credit score (APR is subject to change). For obvious reasons, we don't recommend applying for a card with an APR as high as 25.24% so it would be wise to check your credit score before committing to this credit option. If you would like to apply for the New York Giants Extra Points Credit Card, we have provided a helpful walkthrough to assist you in completing all the steps of the online application process. Scroll down the page to consult our step-by-step guide below.
Before entering any of your personal information on the Barclaycard website, review their privacy policy.
Requirements
To be eligible for this credit card, applicants must meet the following criteria:
Be 18 years of age or older
Have a valid US address
Have a valid US SSN
How to Apply
Step 1 – In order to access an online application, you'll need to navigate to the NFL Extra Points page and click Apply Now.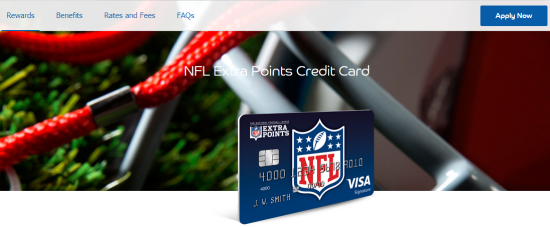 Step 2 – Next, select New York Giants from the pull-down menu before clicking Apply Now. You will be redirected to the application page for the New York Giants Extra Points Credit Card.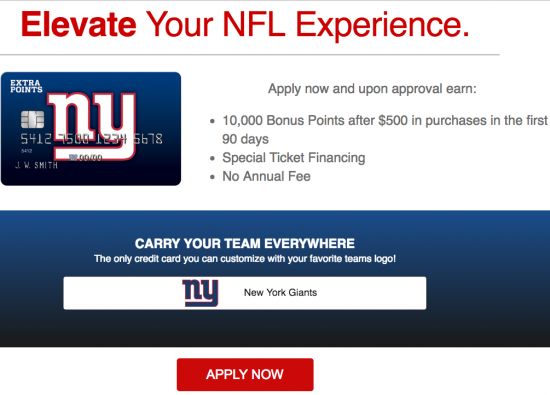 Step 3 – In the General Information section, you will need to enter all of the information detailed below as indicated in the application form:
Name
Permanent address
Time at permanent address
Residence status

Step 4 – Next, provide the following information in the Employment and Financial Information section:
Occupation
Total Annual Income
Bank accounts that you currently hold (optional)
When ready, select either Yes or No to indicate whether you would like to have your card express delivered for a fee of $15.

Step 5 – At this juncture you will need to provide your contact information as detailed below.
Primary phone number
Work phone number (optional)
Email address
Citizenship

Step 6 – Now, provide your Date of Birth, Social Security Number and Mother's Maiden Name in the indicated spaces of the Security Information section.

Step 7 – You are almost finished! In the section pictured below, you can enroll in Paperless Statements. To do so, you will need to have the technological requirements detailed in the disclosures document. If you'd like to subscribe to this service, check the box marked Yes, I want to receive Paperless Statements, and read and agree to the disclosures. You can also perform a balance transfer by clicking the Click here link. If neither option interests you, skip ahead to the last step.

Step 8 – Your application is complete! Just review the terms and conditions and click Apply to submit your application. Barclaycard will give you an immediate response on the following page. We hope your online application is successful, and we thank you for visiting cardreviews.org!