Click your heels three times and repeat, "There's no place like home, there's no place like home…" There truly is no place quite like Kansas City and no football team quite like the Chiefs! If you're in the market for a new credit card, you can express your Kansas City pride with the Kansas City Chiefs Extra Points Credit Card. This card is made specifically for NFL fans, offering cardholders 20% off at all NFL Stores and doubling their points on NFL tickets, NFL Store purchases, and TV packages. If you become an owner of this card, you also get a standard rewards program of 1 point for every dollar spent on all purchases, and no annual fee. Your points never expire and have no limit, so you can keep earning points and compounding your rewards as long as you like. Not only that, but you get 10,000 bonus points after spending $500 with this card within the first 90 days of your account opening! The APR for the Kansas City Chiefs Extra Points Credit Card will be either 15.24%, 20.24%, or 25.24% depending on your credit score (APR is subject to change). Applying for this card online is easy, and Barclaycard (the card-issuing company) will provide you with an immediate response as to the acceptance of said application immediately following the online process. Below we have provided a guide on how to complete an online application for the Kansas City Chiefs Extra Points Credit Card. Scroll down to get started.
Before submitting any sensitive information into your application, take a moment to review Barclaycard's privacy policy.
Requirements
To be eligible for this credit card, applicants must meet the following criteria:
Be 18 years of age or older
Have a valid US address
Have a valid US SSN
How to Apply
Step 1 – To get started, go to the NFL Extra Points page and click the Apply Now link found in the upper right-hand corner of the page.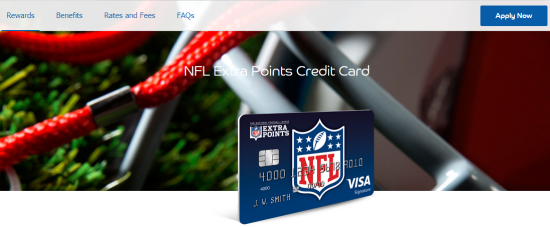 Step 2 – Select Kansas City Chiefs from the pull-down menu, which can be found beneath Carry Your Team Everywhere, and then click the Apply Now link.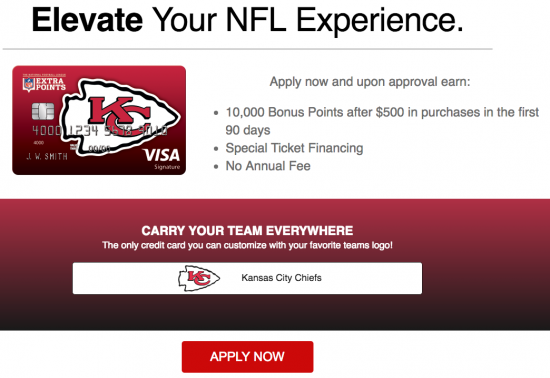 Step 3 – Once you have landed on the application form, the following basic information must be provided in the window pictured below:
Name
Permanent address
Time at permanent address
Residence status

Step 4 – At this juncture, you are required to provide the following Employment and Financial Information:
Occupation
Total Annual Income
Bank accounts that you currently hold (optional)
Below that, select either Yes or No to indicate whether or not you would like to have your card express delivered for a $15 fee.

Step 5 – In the indicated fields, you will need to enter your Primary phone number and Email address. Below that, select Yes or No to indicate whether or not you are a US citizen.

Step 6 – In the Security Information window, you must type your Date of Birth, your Social Security Number, and your Mother's Maiden Name in the specified spaces.

Step 7 – In the section pictured below, you can choose to register to receive electronic statements. First review the paperless statement disclosure linked to the blue View Disclosures link, and then check each of the boxes found in the Paperless Statements section. As another option, you may elect to consolidate your previous balance(s) from your other credit card(s) into one bill by performing a balance transfer.

Step 8 – You have reached the final step! Read the terms and conditions for this credit card and click Apply to have your application submitted for approval. You should receive an immediate response from Barclaycard. Good luck with your application, and thanks for visiting cardreviews.org!