Seattle; the city where the beer flows like wine and the cheers for the Seahawks can be heard clear across the state. If you're a Seattle Seahawks fan and you're looking for a credit card with an excellent rewards program, look no further. The Seattle Seahawks Extra Points Credit Card allows fans to rack up rewards points quickly and in turn redeem those points for NFL-related purchases or even cash back towards a statement credit. How it works is every $1 spent on your card racks up 1 rewards point, or 2 points if you're purchasing NFL tickets, TV packages, pro-shop and online NFL store merchandise. There's no limit to how many you can collect and they never expire. If you feel like using them, you can redeem them for NFL based experiences, tickets, gift cards and more. You could receive 10,000 bonus points right off the bat just for making $500 in purchases within the first 9 months. Where Barclaycard might "get you" is with their interest rates as you could be looking at an APR of 15.49% up to 25.49%, which isn't great. The low end of 15.49% isn't horrible, however, this is only offered to those with excellent credit score to begin with. A nice added bonus is that you won't be paying an annual fee. If you're seriously considering the Seattle Seahawks Extra Points Credit Card, let us guide you through the application process. A step-by-step guide has been written out below for your convenience.
It would be smart to inform yourself on the manner in which Barclaycard (the card-issuing company) might use your personal information. Read their privacy policy before continuing.
Requirements
To be eligible for this credit card, applicants must meet the following criteria:
Be 18 years of age or older
Have a valid US address
Have a valid social security number
How to Apply
Step 1 – The application process begins at the NFL Extra Points Credit Card page of the Barclaycard website. Once there, you need to click on the Apply Now button near the top right of the page to continue.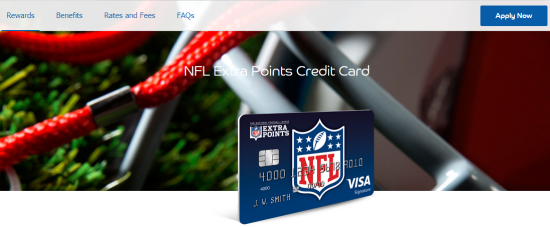 Step 2 – This page allows you to pick your favorite team from the drop-down menu. Select the Seattle Seahawks, then click Apply Now.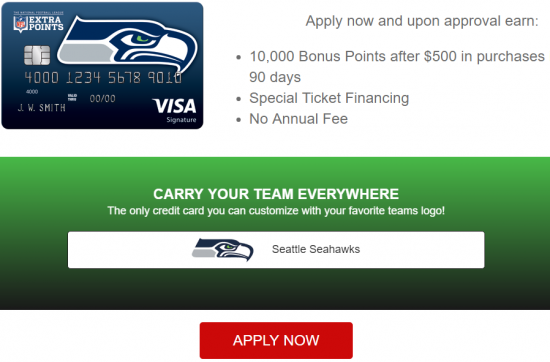 Step 3 – Here, you'll begin filling out the application form, starting with the following information:
Name
Address
Time at address
Residence status

Step 4 – Next, you'll need to enter your Occupation, followed by your Total Annual Income. They give you the option of selecting either a Checking, Savings, or Checking/Savings account that you already have. You also can receive your card express for $15 if you want. Select Yes or No to this option.

Step 5 – You need to provide your phone number (work number is optional), email address and citizenship information in this section.

Step 6 – They require your Date of Birth, Social Security Number and Mother's Maiden Name, in order to confirm your identity. Enter them in the fields accordingly.

Step 7 – At this juncture you may choose to receive paperless statements and/or make a balance transfer. If neither interests you, skip this step. To receive your statements online instead of on paper, tick the first box. You also need to read the disclosures and tick the second box to confirm you have read them. If you wish to make a balance transfer, click on the link in the Balance Transfers section and supply them with the necessary information.

Step 8 – The last step involves reading the terms and conditions before clicking Apply. You will be given an immediate response to your application submission. We hope that we have helped you complete this procedure with ease. Good luck!