If your favorite team happens to be the New England Patriots, and you consider yourself more than a casual NFL fan, you might be interested in the New England Patriots Extra Points Credit Card. It features the Patriots logo, has no annual fee, and provides you with 20% off at the NFL store. With this credit card's rewards plan,all NFL ticket purchases, NFL store purchases and TV packages, will earn you 2 points per dollar spent (all other purchases, you get 1 point per dollar spent).You also get a signup bonus of 10,000 points if you spend $500 on your card within the first 90 days of your account opening. The interest rate on purchases will be one of three options ranging from 15.24% to 25.24%, depending on your creditworthiness (APR is subject to change). Altogether, the New England Patriots Extra Points Credit Card is a pretty good credit card option for the NFL fan. If you'd like to find out how to get your hands on this credit card, follow the below tutorial.
Barclaycard is the financial institution that issues these cards. Before you continue, consult their privacy policy to learn about how they use your information online.
Requirements
To be eligible for this credit card, applicants must meet the following criteria:
Be 18 years of age or older
Have a valid US address
Have a valid US SSN
How to Apply
Step 1 – Before you can start filling an application, you'll need to pass through a couple of steps. First, go to NFL Extra Points page and click the Apply Now link.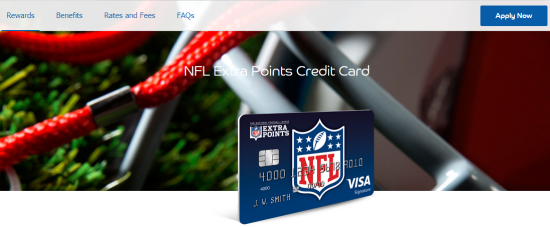 Step 2 – Next, select New England Patriots like in the example below and click the red Apply Now link.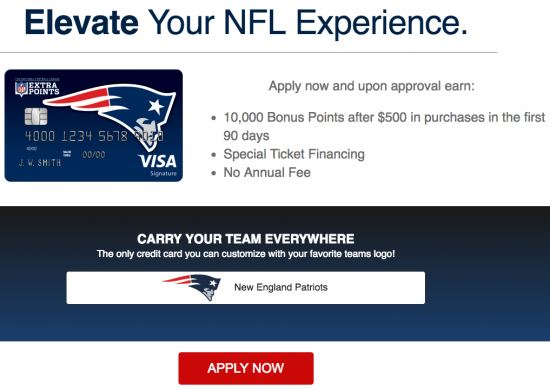 Step 3 – At this juncture, you should be on the application page. Enter the information listed below into the application form as indicated:
Name
Permanent address
Time at permanent address
Residence status

Step 4 – Now, indicate your Occupation by selecting it from the drop-down menu, enter your Total Annual Income, and select which bank account type(s) you have from the menu marked Do you have a:(opt.). In this step you may choose to have your card express delivered by selecting Yes or No where indicated.

Step 5 – Next, you will need to supply the following information in the fields indicated:
Primary phone number
Work phone number (optional)
Email address
Citizenship

Step 6 – At this point you must provide your Date of Birth, Social Security Number and Mother's Maiden Name in the indicated fields of the Security Information section.

Step 7 – If you would like to register to receive your statements online instead of by mail, tick the box marked Yes, I want to receive Paperless Statements. Read and agree to the disclosures stipulating the technological requirements for you to be able to receive online statements. If you'd like to perform a balance transfer to consolidate your existing credit card balances on one bill, you can do so by clicking the blue Click here link. Skip ahead to the next step if you are not interested in either of the above options.

Step 8 – Your application is complete! Just review the terms and conditions and click Apply to submit your completed form. On the following page you will be notified as to whether or not your application has been approved. Good luck with your application! We hope that our guide made this experience a little easier.