Lions, tigers, and bears, oh my! The Kansas City Zoo, like all frail public institutions, could really use a helping hand. Thankfully Commerce Bank has once again come to the rescue with their Kansas City Zoo Visa Credit Card, a card that donates a whopping $35 each time a new card is registered. Commerce is generous enough to include their normal rewards program along with the additional benefits for the zoo to entice those less enthused by the institution of publicly displayed animal slaves.
Read through Commerce Bank's Privacy Policy before applying like any mature adult would do. Don't be caught inadvertently wiring your life savings to third-world nobility.
Requirements
All applicants, animal lovers or otherwise, must meet these requirements in order to apply:
Be at least 18 years of age
Have a valid US street address
Have a valid SSN
How to Apply
Commerce Bank hosts summary website for all of their credit cards, including the Kansas City Zoo card located here. From this page you will be able to access the secure application by simply clicking the bright green apply now link.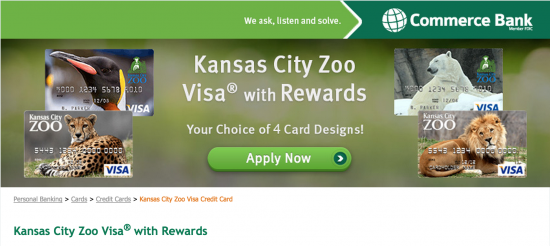 Step 1- Terms and Conditions
Read the terms and conditions now! Commerce certainly isn't going to give you another chance. Just make sure the card is up to your standards before continuing with the application.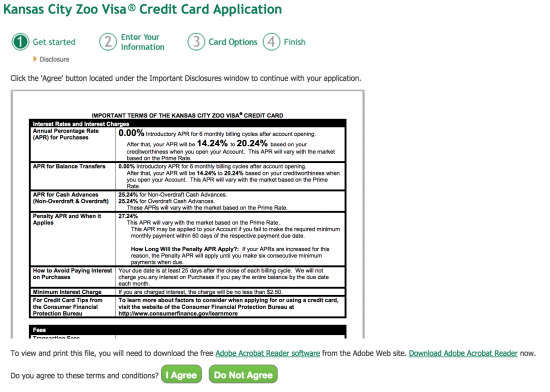 Step 2- General Information
Submit your basic personal information here in order to continue. Specifically, you will need to give Commerce the following:
Full name
Address
Phone number
Email address
Duration at address
Date of birth
SSN
Mother's maiden name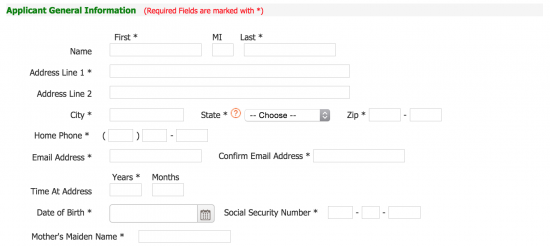 Step 3- Employment and Financial Information
Commerce needs to evaluate your financial record in order to decide on what APR you will receive, the punitive 20.24% or that sweet, sweet 14.24%. In order for them to do this submit the following into the provided fields.:
Occupation
Employer
Time with employer
Work phone number
Total annual income
Other income
Housing status
Monthly housing payment
Nearest relative full name / relationship
Step 4- Additional Questions
If you have declared bankruptcy within the past ten years or if you are not a US permanent resident you must declare so now. Be honest!

Step 5- Final Questions
To finish off the application Commerce has packed a series of completely unrelated optional actions into the last section. Add a co-applicant, perform a balance transfer, link a Commerce account, or buy overdraft protection here. Submit your application once you've waded through all of the steps preceding it.