The Kansas City Zoo Visa Credit Card is useful for its special offers it can garner a cardholders through the "Friends of the Zoo" program at the Kansas City Zoo. For every new card account opened, $35 is given to the Friends of the Zoo by Commerce Bank. This $35 is then used to care for and feed the 1000 or so animals that live at the Kansas City Zoo.
The card has a useful online-management function that can make using your card very efficient. Read on for instructions on how to login and how to activate your card if you haven't done so.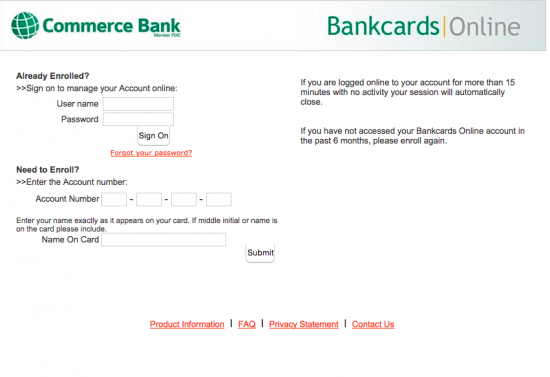 Make a Payment
Making payments and doing other things with your card is easy. Just login by clicking the image above and entering your username and password. Once you have accessed your account page you are able to make payments, view past transactions, edit account information, and check on promotional offers exclusively available to cardholders.
Activation
Activating your card takes less than 2 minutes. Its as easy as entering your account number and password into the empty fields in the section called "Need to Enroll?" on the Commerce Bank login page. Once you have entered these pieces of data in, you can click "Submit" and your card is all set up. All you will need to do is create a username and password that you will remember for next time you want to login.