Individuals harbouring enough pride in their rust-belt metropolis to enrol in the Dollar Bank City Pride Visa Credit Card have lucked out- the card offers a lot more than a skyline design. With one of the lowest APRs I've ever seen (9.24%?!) and a 6-month introductory APR of 0% you really can't do better. As with all Dollar Bank cards, I like the card a lot more than the site card owners are forced to navigate in order to pay bills, view past statements, and otherwise manage their cards. If you are in need of help for activating a card, registering a new account, and/or logging in to said account, please feel free to consult our suite of set-up guides available just below.
Please take a minute to review the Dollar Bank online privacy policy. It's important to be aware of how your information is being handled by any company, but especially those who demand such sensitive data as social security numbers and yearly income.
How to Login
To login navigate to the Dollar Bank login page and enter your online banking ID and password. Forgotten passwords may be retrieved by selecting the forgot password? box and then log in.

Activation/Registration
Activation #: 1 (877) 732-2296
Activate your card by calling the number above. To register a new account follow the link above and indicate whether or not you have a Dollar Bank Account Level PIN.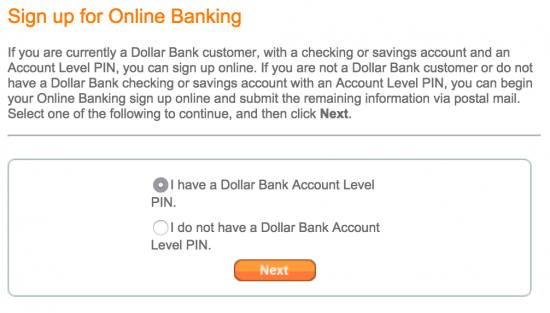 The page on the left is for PIN holders, the right for those without a PIN. In either case the form represents a brief survey by which you will establish your identity for Dollar Bank and indicate your account preferences.