Business owners in the midwest who have signed up for the Dollar Bank Business Visa Credit Card are in luck, in a sense, in that Dollar Bank has simply amazing credit offerings, and the business card is no exception, but unlucky in that they are now forced to wrangle with the clunky and out-of-date website that Dollar Bank is still using. If you are having difficulty managing your card online (paying bills, viewing past statements etc.), activating, or registering a new account please feel free to consult our official suite of guides, available just below.
Please take a moment to review the Dollar Bank online privacy policy before creating a new account.
How to Login
To login navigate to the Dollar Bank login page and input your online banking ID and password. Lost passwords may be reset by selecting forgot password? and then login.

Activation/Registration
Activation #: 1 (877) 732-2296
Call the number listed above for card activation. To register a new account select the secure registration link available above. Once redirected Dollar Bank will ask for your Dollar Bank Account Level PIN.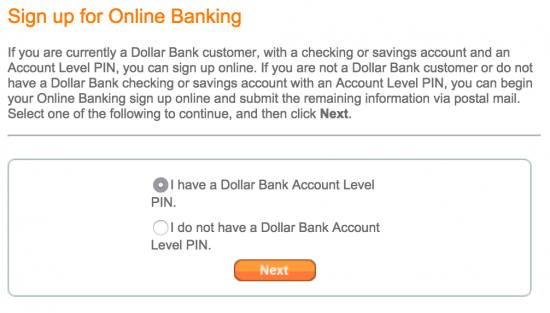 If you have a PIN you will be directed to the form on the left, if you do not then you will get the form on the right. In either case you will be filling out a short-ish form to establish identity with Dollar Bank. On subsequent pages you will set your security parameters and account settings.