As a card reviewer tasked to review every single card in America I frequently run out of things to say, most cards falling into the narrow bounds set by major corporations. Thankfully this week I get to talk about Dollar Bank's line of credit cards, by far the best being the Dollar Bank Preferred Customer Visa Credit Card. It actually has a 1.25% cash back rewards option on all purchases! Unreal. The APR also comes in as one of the lowest I've ever seen (6-month introductory 0%, 11.24% afterwards). If you are interested in applying for this card please feel free to utilize our official application guide available just below.
Before applying take a minute to review the Dollar Bank online privacy policy.
Requirements
All applicants must:
Be at least 18 years of age
Have a valid US SSN
Have a valid US street address within Ohio or Pennsylvania
How to Apply
To access the application form you must navigate to the card summary page for the Valued Customer card. Once there select apply now to be redirected.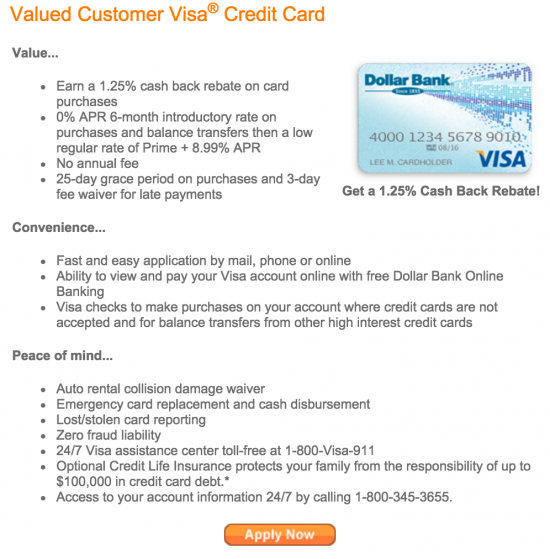 You will be asked for a promotional code (optional) before being able to access the actual application.
Step 1- Applicant Information
Submit the following personal data to the form at this point in the application:
Full Name
Email Address
SSN
Phone Number
Date of Birth
Driver's License #
Issuance Date
Expiry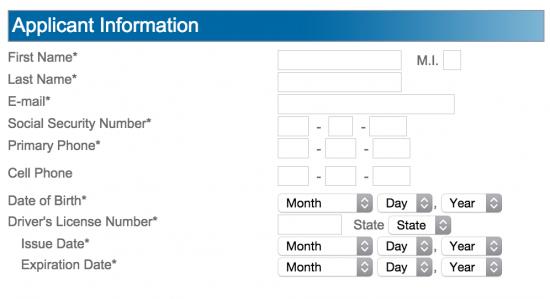 Step 2- Address Information
Enter your full address as well as the duration of time you've spent there and your housing status for this section of the form.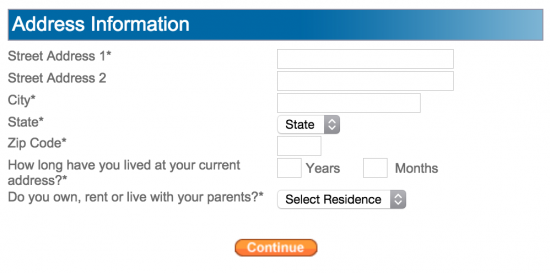 Step 3- Disclosures
Dollar Bank reserves the remainder of the application for real applicants only, and thus I was unable to see it fully, but you can bet that you will have to submit financial data and review the terms and conditions. Assuming you agree to the terms please submit the application and await your judgement from Dollar Bank.