Cha-ching! Welcome to the US dolla club. If you own the TD U.S. Dollar Visa Credit Card things have likely never been better for you. The dollar (USD) is killing it right now, and here you are to reap the rewards. Let's say you have this card, but are having difficulty logging in; please read on to find our login guide or, if you should need it, our registration/activation guide. Cardholders will find that the TD user portal allows for all facets of card management, including bill paying, information updating, new card applications, and more.
It's never too late to read the TD Online Privacy Policy to make sure your information is being handled responsibly.
How to Login
Cardholders will find their user portal just a click away. Navigate to this webpage, pictured below and enter your username/access card # and your password to login.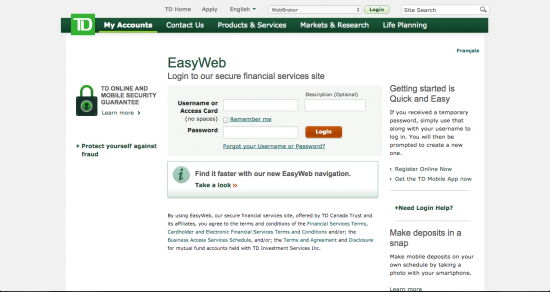 Misplaced your login information? Select the Forgot your username or password? link to begin the retrieval process. You will, once redirected, be asked what, specifically, you have lost. In the case of a username, the information can be retrieved. For a password, odds are that you will have to reset it for security reasons.

Activate
Phone activation is only way a new cardholder can activate their card. To activate by phone please call 1-800-983-8472. You will now want to register your card online. To do so, follow the link above and fill out the EasyWeb Online Registration forms. Through these forms TD will help you setup your account, including setting your desired username and password, providing identification information, and linking your new card.