To quote the Fresh Prince: "First class, yo! This is bad! (bad meaning good)." I can't say with 100% certainty that he was speaking in reference to the TD First Class Travel Infinite Visa Credit Card, but most likely, he was, and for good reason. the card boasts smart rewards, and benefits from being part of the TD family, complete with easy-to-access online user portal. If you're looking for information on logging in with this card, please read on for our official login guide. Once logged in, users will be able to manage their card fully, including paying bills and viewing past statements.
Please review the TD Online Privacy Policy to ensure that your information is being protected.
How to Login
Logging in is possible from this webpage. Navigate there and enter your username/access card # and your password in order to login.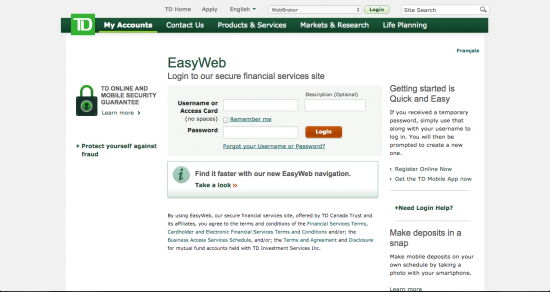 TD has created the Forgot your username or password? link in case you have misplaced your login information. Select the link in order to be redirected to a form which, if completed, will retrieve the lost information.

Activate
Cards can be activated by phone (1-800-983-8472) or online. To activate online follow the link above and complete the registration forms by which you will set your security parameters, link your card, and link any other TD accounts you may have.