Welcome to the official Cardreviews TD Infinite Privilege Visa Credit Card login page! To jump right into our login guide please scroll down. You will find on this page a guide to logging in and another to registering an account with TD for activating your card. TD cardholders are lucky in that TD has one of the most seamless user portal systems in place, due most likely to their status as a long-standing and respected bank. Once logged into this system users may apply for other cards, manage their account fully (including making payments), and update personal information.
Although TD has certainly earned a good reputation, it is always smart to review a companies Online Privacy Policy before submitting to them any sensitive personal information.
How to Login
To login successfully enter your username/access card # and password into the fields provided on this webpage, pictured below.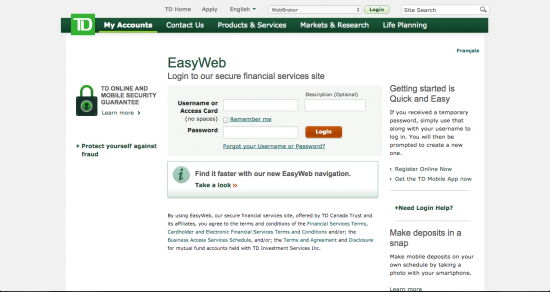 If you find yourself rummaging around your desk looking for some clue as to what this login information was, cut your losses and select the forgot your username or password? link to retrieve the information.

Activate
All TD cards can be activated by phone by simply calling 1-800-983-8472. To link this card to your TD account, or, more accurately, to register an account with TD to fully manage your card online, select the link above. You must wade through the EasyWeb forms to create your account, including the setting of security parameters and the linking of your cards.