If you're here it means two things: you are the proud owner of a TD Gold Select Visa Credit Card and you are looking for information on logging in to your customized TD portal. To get right to the login guide, please scroll down. Once logged in, users will have all of the advantages and conveniences that come with owning a card from a major, longstanding bank in that they will be able to fully manage their card, including paying bills, viewing statements from the past, updating personal information, and more.
Please do yourself a favour and review the TD Online Privacy Policy just to be 100% sure that your information is being handled in a way that you agree with once it's been submitted to TD.
How to Login
Cardholders will find the login fields available on this webpage, pictured below. All that is required to login, once you've navigated to the aforementioned page, is to enter the following information into the provided fields: username/access card #, password.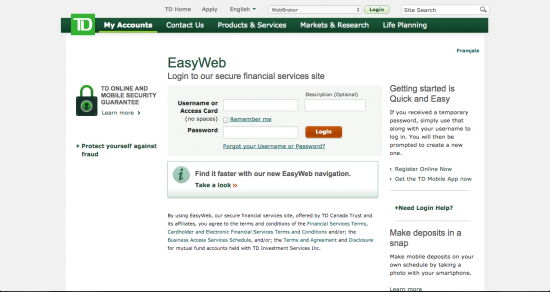 There's a chance you've forgotten or lost your login information, now what? Select TD's Forgot your username or password? link. Once selected, you will be redirected to a small form that, when completed, will result in either your username being retrieved for you or your password reset, or both, depending on what you've lost, exactly.

Activate
This section is for those of you who have just received a new credit card in the mail. Let me be the first to say congratulations! To activate immediately, call the number on the back of the card (1-800-983-8472). You will, at some point, have to register online with TD in order to manage your credit account. To do so, follow the link above. Once redirected you must select the option which allows you to create a new EasyWeb identity. Through the process you will create a username, password, security question, and adjust all the other features of your account. Once your card is active you will be able to link it to your account.