Owners of the TD Gold Elite Visa Credit Card have the luck of owning a card under the TD umbrella, a company that, for decades, has been the gold standard of Canadian banking. One facet of this overall competency is the extremely easy to use user portal each account holder is equipped with. From this portal cardholders may update TD as to any changes in personal information, apply for new credit cards, pay current bills, view previous statements, and more. For information on logging in please continue down this page to find our official login guide.
Savvy webgoers know to always review a companies online privacy statement to double check that a given company is handling your information responsibly once it has been submitted through an online form. To review the TD Online Privacy Policy please click here.
How to Login
The secure login forms, available at this webpage, are standard format for any online portal. To login, simply enter your username/access card # and your password.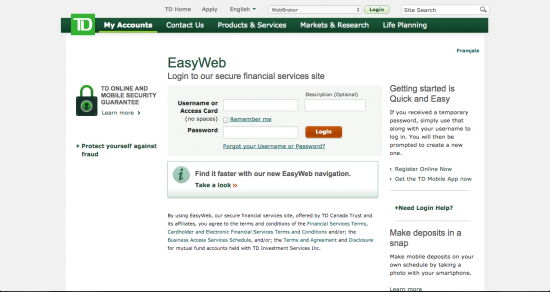 We can't all be as organized as we like, and at times even I myself misplace my login information. Lucky for me, and maybe for you, TD has put in place the Forgot your username or password? link. To begin the retrieval process required to get this vital info back, select this link and answer the few questions TD will throw your way.

Activate
I tend to find doing things by phone easier, sometimes, than attempting to do them online. For individuals of a similar mindset TD has a hotline for credit card activations (1-800-983-8472). Others may find the online route more satisfactory. In order to activate online you will have to simultaneously create an account with TD. To do so, follow the link above and complete the EasyWeb Online Registration. This consists of creating your login credentials, setting your security parameters, and, eventually, linking all TD accounts, including that of your credit card. Voila!