If you recently received a Miami University and Community Federal Credit Union (MUCFCU) Visa Gold Card in the mail, you may be wondering how you can access your card online. Accessing your account through the MUCFCU website is easy and from there you can manage your account in a myriad of ways, paying your bills, viewing past statements, transferring balances, etc. We have provided useful links and information to help new MUCFCU Visa Gold cardholders activate and access their account. Scroll down to get started!
Read the MUCFCU privacy policy to see how they keep your information safe before entering any personal information.
How to Login
Go to the MUCFCU GoToMyCard page pictured below by clicking here. Enter your User Name and Password then click the Log In button.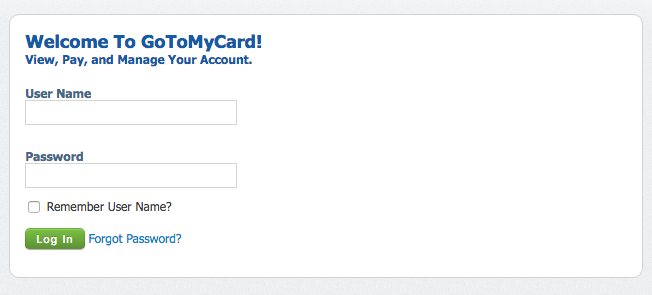 In the event that you forget your login information, click the Forgot Password? link found on the login page. You will be directed to the page seen in the below example, enter your credit card Account Number then click Continue.

You will be taken through a few more pages where you will need to authenticate yourself to finally be able to reset your password and login.
Activation/Registration
As of this writing, you cannot activate a new MUCFCU Visa Gold online. You will need to call the MUCFCU Visa support line at the number provided above and speak to a representative who will assist you in activating your new card. To register for online access to your MUCFCU Visa Gold account, click the Secure registration link provided above. Enter your credit card Account Number on the linked page then click Continue.

On the next pages you will enter personal information and set up your login, security and contact info so that you will then be able to access your MUCFCU Visa Classic Card account online. Once you have finished your Account Registration, you can scroll back to the top of our page for help logging in to your new account.