As a TD Platinum Travel Visa Credit Card holder you probably are used to expecting the best out of a given service platform. Luckily, unlike many other, lesser banks, TD has their sh*t together. Their user portal, easy to access, allows for full control over your card from the comfort of your home. We have created a guide for both logging in and registering a new account with TD, both available below. Once logged in users will find all aspects of card management available, including paying bills, updating personal info, and the like.
Despite their good reputation it is a good idea to review the TD Online Privacy Policy just so you know precisely where your information goes and how it is treated once you've submitted it to TD.
How to Login
To log in a cardholder must simply enter their credentials (username/access card # and password) into the fields available on this webpage.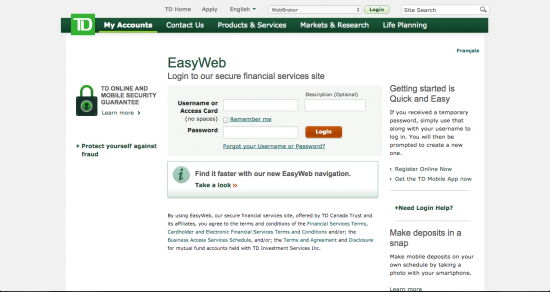 In the case that you, in some unforeseeable accident, have managed to misplace your login information, select the TD Forgot your username or password? link. You will have to navigate a short form in order to properly retrieve the information.

Activate
Call 1-800-983-8472 to activate your new card. Once active, follow the link above to access the EasyWeb Online Registration form by which you will be able to register a new account with TD. The process will involve setting security parameters, linking your card, and assenting to a few disclosures. Presto! You're all set up. Go spend! Spend! Spend!