For the average American who spends hundreds of dollars each month on groceries and gas, it would be great if there was someway to get something back from spending all that hard earned money. Well, with the NEA Cash Rewards Credit Card there is. This card offers cash back on a wide range of transactions that can end up saving you a ton of money at the end of the year. Not only can you get back 1% of all purchases made with your card, but you can earn 2% on your grocery bill and a whopping 3% on fuel. NEA hasn't stopped there; they are offering a $100 bonus when you spend $500 within the first 90 days. As you can see this card would be great for anyone with a large family to feed or for the individual who has to commute an hour to work and wants a break at the pump. Continue scrolling down to find out how you can apply for the NEA Cash Rewards Credit Card.
Bank of America is the bank which has issued this card. Be sure to review their privacy policy before submitting any sensitive information.
Requirements
To be eligible for this credit card you must meet the following requirements:
You are at least 18 years of age
You are at least 21 years of age if you are a permanent resident of Puerto Rico
You have a valid SSN
How to Apply
Step 1- Begin by clicking here to access the online application page. Once you're there, scroll down to the About You heading and enter the following information about yourself:
Full name
Phone number
E-mail address
Full address
Country of residence
Would you like your statements sent to a different address? (y/n)
Housing status
Monthly housing payment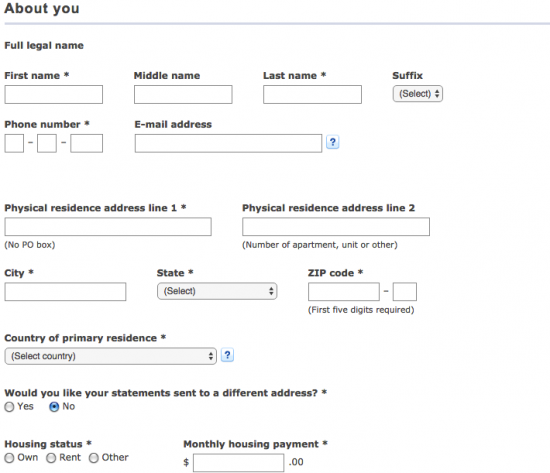 Step 2- Here you will need to supply your Social security number, Date of birth, Mother's maiden name and your Country of citizenship. Just below that, specify one again as to whether or not you are a U.S. citizen.

Step 3- Use the drop-down menu to indicate your Employment Status. If you are employed, you will need to provide the Company name or employer, Years in occupation, your Occupation and Work phone number. Students will be required to supply their school's Name and address, the Years in school, Full or part-time status, Company name and Job status (if applicable).

Step 4- Enter your Total annual income into the field and use the drop-down menu to specify your Source of income.

Step 5- This section of the application procedure will allow you to add additional features (transfer balances or add additional cardholders).

Step 6- Take a moment to review their terms and conditions before clicking Continue to proceed.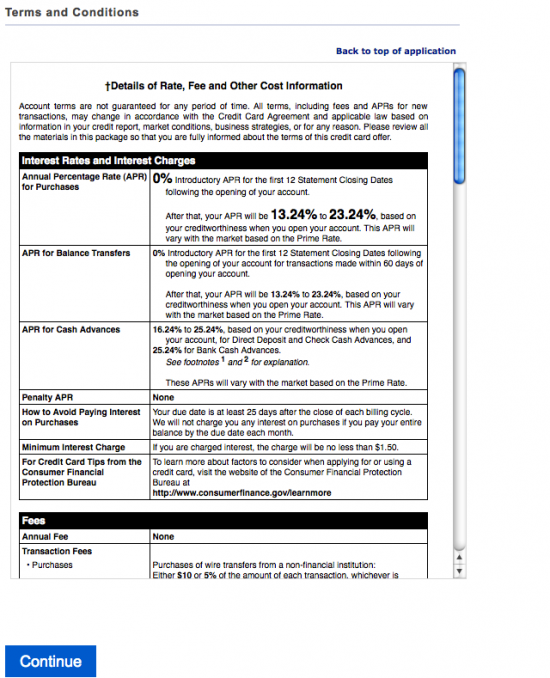 Step 7- A review of the information you have submitted will be presented on the following page. Check the data for accuracy before proceeding.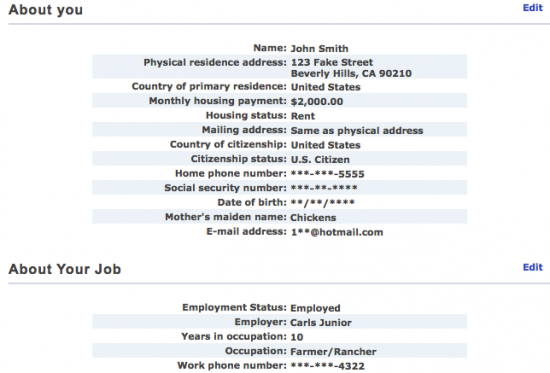 Step 8- Lastly, you will be provided with the terms and conditions for this card once again. Scroll down and check the small box to indicate your compliance with their policies and click Submit Application to finalize this process.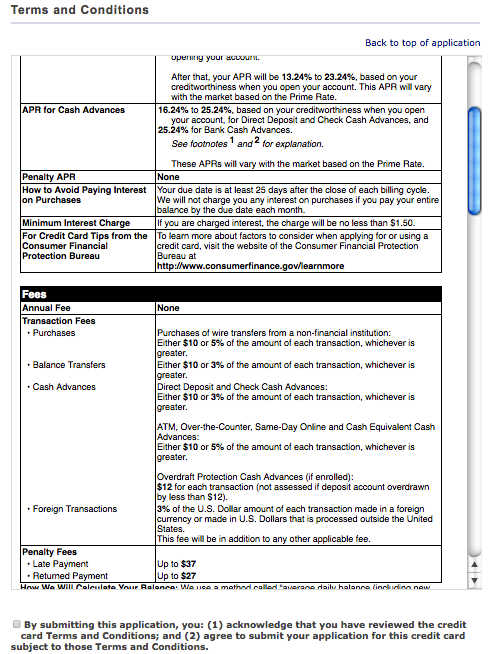 That's all there is to the application procedure. We here at Card Reviews wish you the very best in all of your future banking endeavours. Good luck and take care!