The Chicago Cubs Cash Rewards MasterCard is one of many Bank of America MLB credit cards available to baseball fans. All of those "baseball cards" have the same interest rates and fees, however, not every card has the privilege of displaying the 2016 World Series champions. As a signup bonus of sorts, you will receive an introductory 0% APR for 12 billing cycles on purchases and balance transfers. After this offer has expired, you can expect your APR to be somewhere between 13.24%-23.24%, depending on your creditworthiness (APR is subject to change). The cash rewards program is this card's strong point, enabling you to earn back a percentage of what you spend; earn 1% back on purchases, 2% back at eligible grocery stores, and 3% back on gas for the first $2,500 in combined grocery/wholesale club/gas purchases each quarter. Some additional bonuses include $100 in online cash rewards after spending $500 within the first 90 days, and a $0 annual fee. If you find this card's features and specs alluring enough to convince you to apply, scroll down and review our tutorial on the application process
Be sure to review Bank of America's privacy policy to get a full understanding of how they plan on using your personal information.
Requirements
The following requirements must be met in order to be eligible for this card:
You are at least 18 years of age
You are at least 21 years of age if you are a permanent resident of Puerto Rico
You have a valid SSN
You reside in one of the approved US states or territories
How to Apply
Step 1- The application process for the Chicago Cubs Cash Rewards MasterCard begins on this webpage. There you must select the Apply Now link to continue.

Step 2- On this page, you must specify your desired MLB franchise. Use the drop-down menu and select Chicago Cubs from the list of available options.

Step 3- Some personal information must be provided in the blank fields. Enter-in your First name, your Last name, and your full address.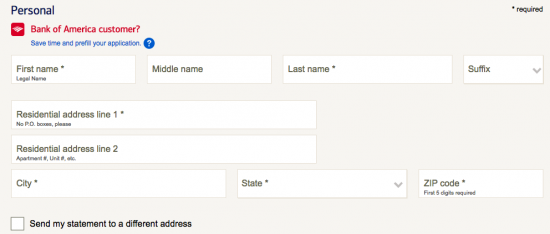 Step 4- Continue by supplying your Primary phone number, Email address, Country of citizenship, County of residence, and Date of birth.

Step 5- Under Employment & finances, use the drop-down menu to specify your Employment status. If you are currently employed, you must indicate your Occupation by selecting the job title that most closely matches the description of your current job. Just below that, provide your Total annual income, your Source of income, your Liquid assets, and your Monthly housing payment.
If you answered Student as your current occupation, some additional details must be provided. The required information is as follows:
Student status (full time/part time)
Years in school

Step 6- Take a moment to read over the terms and conditions for this credit card to get a full understanding of what you're getting yourself into. If you are in compliance with Bank of America's terms, check the white box located towards the bottom of your screen. Click Review your information to proceed.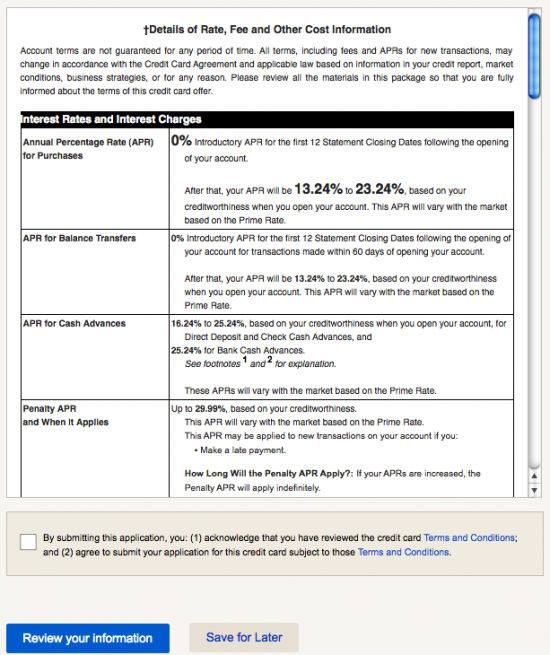 Step 7- This page provides you with a full review of the information you've supplied thus far. Check the data for accuracy before clicking Submit to have your application sent in for review by Bank of America.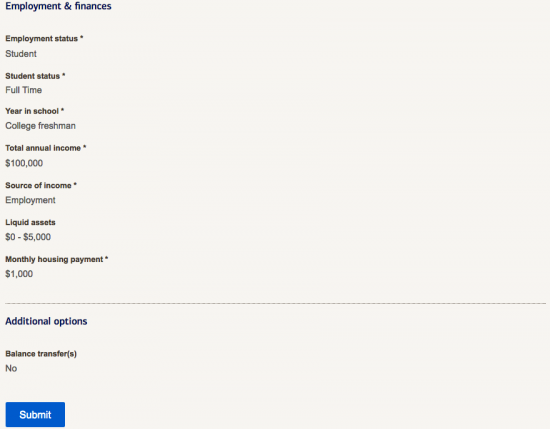 After completing each of the above steps, the application process will be finalized and you will receive confirmation shortly via email. Thank you for choosing Card Reviews and best of luck with your new credit card!