Among the list of their credit cards, First Hawaiian Bank offers a Cash Rewards MasterCard for those who would like to earn cash back every time they shop. The rewards program attached to this card isn't groundbreaking, awarding cardholders 1% cash back on all purchases. There is an opportunity to earn extra cash back by making purchases in "special categories", which are announced for a limited time during promotional periods. Purchases made in these special categories earn users 3% cash back. With no annual fee, this card includes all the benefits you would normally find in a MasterCard and comes with a very reasonable interest rate. Most people might find it more useful to carry a cash back credit card that provides extra cash back opportunities while shopping for everyday purchases such as gas or groceries. This card might seem less attractive, due to the fact that the categories within the program change frequently. Follow our tutorial below if you would like to apply for the First Hawaiian Bank Cash Rewards MasterCard.
Before submitting any of your personal or financial information into the application form, read through First Hawaiian Bank's privacy policy.
Requirements
The following is a list of requirements for this credit card:
Applicants must be 18 years of age or older
Applicants must have a valid U.S. address
Applicants must have a valid Social Security number
How to Apply
Step 1 – Go to the First Hawaiian Bank's credit card page and locate the First Hawaiian Bank Cash Rewards MasterCard. Click on the Apply Now link to continue.

Step 2 – Fill out the application form, starting with your personal information; First Name, Last Name, Social Security Number, and Date of Birth.

Step 3 – Enter the following information into the appropriate fields in the Home Address section:
Full address
Citizenship status
Time at address
Phone number(s)
Email address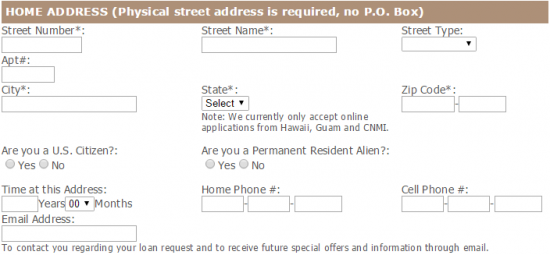 Step 4 – First Hawaiian Bank requires some financial information next. Submit your Employment Status, Employer and Position, as well as how long you have worked at this job and in this particular line of work. Below that, provide your Gross Monthly Income and any Other Monthly Income you deem relevant to your application.
Step 5 – Next, under Home Owner or Renter Status, if you own your home, select Yes and provide your Monthly Mortgage Payment. If you are renting, select No and enter your Monthly Rent Payment.

Step 6 – Finally, read through the terms and conditions of the credit card to make sure you understand them completely. If you agree to them, tick the box at the bottom and click Submit.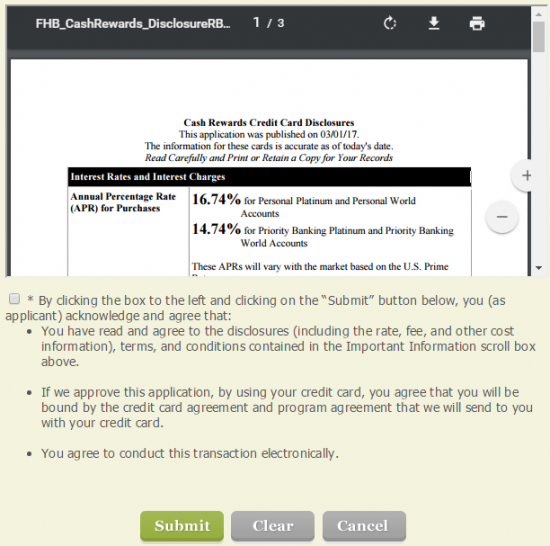 Your application form will be sent in for review. The hard part is over, just sit back, relax and await your approval. Hopefully the application process was made easier with help from our tutorial. Good luck!