With an excellent rewards program and great benefits, the First Hawaiian Bank Priority Destinations World Elite MasterCard is an attractive card for the modern traveler. Once approved for this card, you will be earning Priority Miles no matter where you go or what you buy. Earn 5 x the Priority Miles for every $1 you spend on travel (cardholders earn 2 x Priority Miles after the first $6,000 spent annually in this category), 2 x Priority Miles per $1 spent on everyday purchases (gas, grocery, internet, cable, phone, etc.), and 1 x Priority Miles per $1 spent on everything else. Save your points until you feel the need to escape to your most desired destination. You can redeem your miles for airfare, car rental, hotel rooms, gift cards, or even as cash back. Points don't expire as long as you keep using your card or redeem them within 2 years. The World Elite MasterCard will also assist you while you're on your journey by providing travel assistance services, accident insurance, rental coverage, and luggage insurance just to name a few. This card truly is a traveler's finest companion. The interest rate currently at 16.74% (rates will vary over time) is not phenomenal but for a travel rewards credit card it's only just above the average. This card does come with an annual fee of $50 but they will kindly wave this fee for the first year after opening the account. Follow our tutorial below to learn how to apply for the First Hawaiian Bank Priority Destinations World Elite MasterCard and begin your journey today.
First, take a look at First Hawaiian Bank's privacy policy to better understand how your information might be used.
Requirements
The following requirements must be met in order to successfully apply for this credit card:
Applicants must be 18 years of age or older
Applicants must have a valid U.S. address
Applicants must have a valid Social Security number
How to Apply
Step 1 – Navigate to First Hawaiian Bank's (FHB) credit card page and click on the Apply Now link found under the Priority Destinations World Elite MasterCard.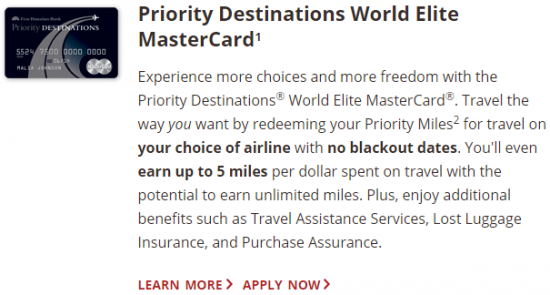 Step 2 – Begin filling out the application form, starting with your First Name, Last Name, Social Security Number, and Date of Birth.

Step 3 – Under the Home Address section, provide the following information:
Street number
Street name
City
State
Zip code
U.S. citizenship
Time at address
Home phone
Cell phone
Email address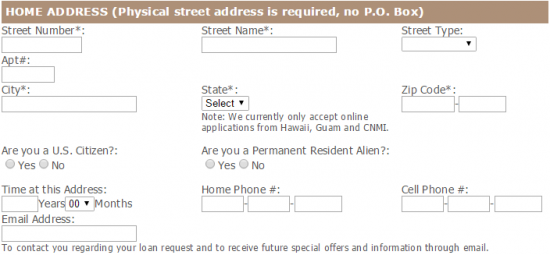 Step 4 – Next, submit your Employment Status, Employer Name, Position, as well as how long you've been in this line of work and how long at your current job. You may also provide a Work Phone number if you wish. Below that, enter your Gross Monthly Income and any Other Monthly Income you would like FHB to be aware of.
Step 5 – The last section involves questions about the status of your current dwelling. Answer the question Are you a homeowner? with either Yes or No, then provide your Monthly Mortgage Payment and Monthly Rent Payment.

Step 6 – At the bottom of the page, FHB has supplied the terms and conditions for this credit card. Read over them and, if you agree to them, tick the box below that. Click SUBMIT once you have completed this step.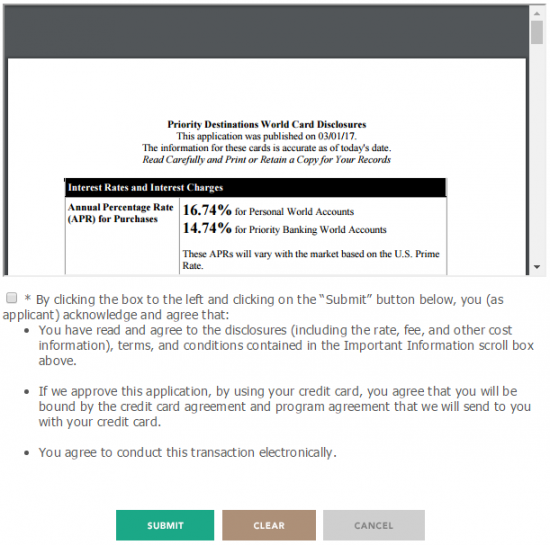 Well done! You have completed the application form for the First Hawaiian Bank Priority Destinations World Elite MasterCard. We hope this tutorial has aided in making this process more bearable. Best of luck with your approval.