If you travel internationally from Canada and often find yourself at Montreal Trudeau airport, you might want to consider the National Bank World Elite MasterCard. With this card, you and one guest get access to the National Bank World MasterCard Lounge at Montreal Trudeau airport with exclusive concierge service. Fancy eh? Travel rewards include up to 2.5 points per dollar in purchases and up to $250 each year in "savvy traveller" fee reimbursements on certain travel expenses. The APR is pretty high at 19.99% (APR is subject to change) and with that $150 annual fee, it may not be worth it unless you use this card enough to really benefit from the rewards program. If you would like to apply for the National Bank World Elite MasterCard, scroll down this page for our step-by-step guide.
The National Bank has a privacy policy that you should review before you continue.
Requirements
To be eligible for this card you must meet the following requirements:
You are a Canadian resident
You have reached the age of majority
You have a gross annual income of $60,000 or a gross annual household income of $100,000
How to Apply
Step 1- To start the application process go to this page and click Apply.

Step 2- You will be asked to select one of the following options:
Already a client
New client
Not signed up to Digital Banking Solutions yet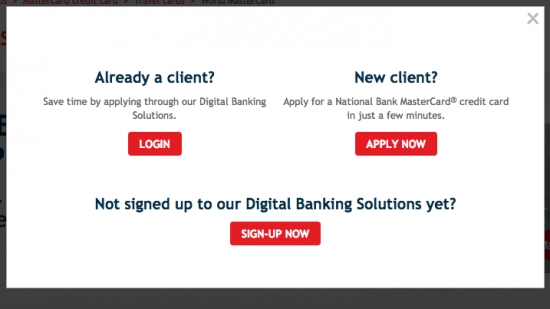 If you are already a National Banking customer, you will be able to use your existing account to authenticate your new credit card account by clicking either Login or Sign-up Now. Otherwise, click Apply Now and continue following our guide to Step 3.
Step 3- By selecting Apply Now you will be redirected to the card application page, where you will begin by filling in the following information as indicated:
Title
First name
Last name
Email address

Step 4- Read the terms and conditions for the National Bank World Elite MasterCard found in the Information box, tick the box indicating that you have done so and agree to the terms then click Continue.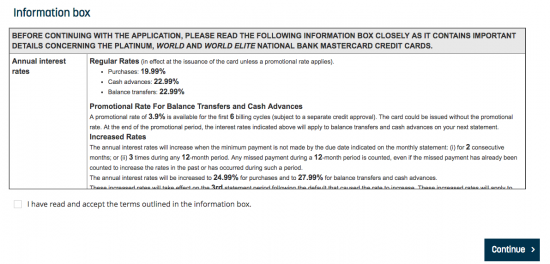 Step 5- Enter the following information to help create your secure account:
Date of birth
Telephone number
SSN (optional)
Mother's maiden name

Step 6- Provide your Current address as indicated so that National Bank can send you your card if you are accepted:
Street number and name
City
Province
Postal code
Residency status
If you have lived at this address more than 2 years

Step 7- Help the National Bank determine your credit worthiness by providing the following Employment information:
Employment status
Gross annual income
Gross annual household income

Step 8- Select Yes or No for each of the questions under Addition information to each of the following if you:
Do you have a bank account at the National Bank?
Do you require an additional card?
Will you require a balance transfer?
Then click Continue.

Step 9- Ensure that all the information you have inputted is correct and make corrections if necessary.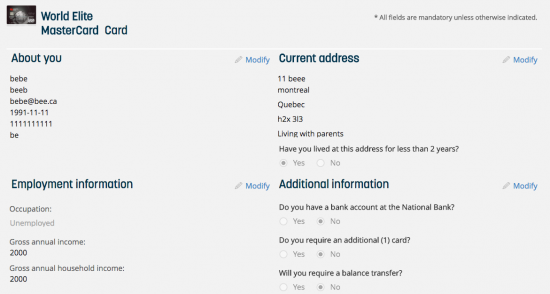 Step 10- In the Consent section there are two statements, you have to read them and tick the boxes beside each one to indicate that you agree to them. Beneath Is this you? click I'm not a robot, then click Submit.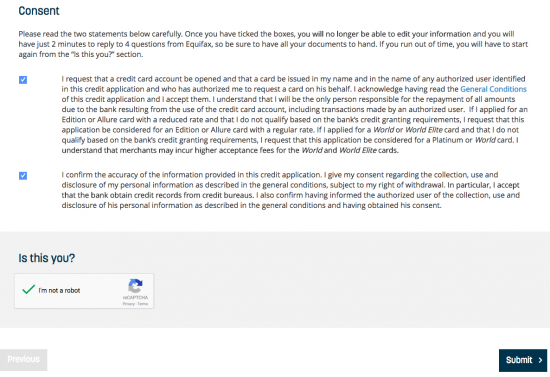 You should then see the notice pictured below indicating that you have successfully submitted your application.

If you see this notice, your application is submitted for approval and you should soon receive a response regarding whether or not your application has been approved. We hope this guide has been helpful for you.