The Patelco Credit Union Payback (PCU) Passage Rewards World Elite MasterCard offers a competitive APR and extra rewards for travel expenses, for an $85 annual fee. As far as the rewards program goes, cardholders get 3 points for every dollar they spend on all travel and dining expenses, and 2 points for every $1 on all other purchases. The variable interest rate on purchases dips as low as 10.4% (APR is subject to change), and a signup bonus, there is no annual fee for the first year. For someone who can profit from the rewards enough to make the annal fee worth it, the PCU Passage Rewards World Elite MasterCard could be a good choice. Below this paragraph you will find information on how to apply for this card online and what information and qualification is required to successfully submit an application.
Read the PCU privacy policy to learn how they protect your information online before you start an application.
Requirements
To be eligible for this card you must fulfill the following requirements:
Be at least 18 years of age
Have a SSN
Have a US-issued photo ID
Have a US mailing address
How to Apply
Step 1- Go to the page pictured below and click Apply Now to access a secure application.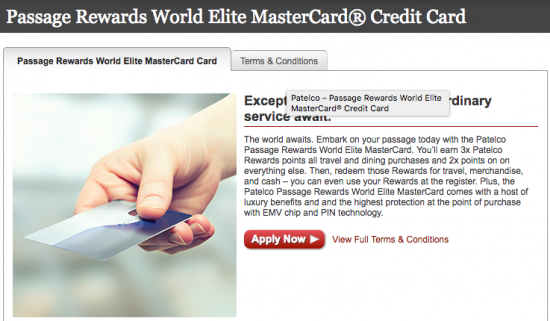 Step 2- Before you can access the credit card application, this window will pop up. If you are a Patelco member and remember your login information, select I am a Patelco Member. I want to log in to prefill my application. Otherwise, select I would like to become a Patelco Member or I do not remember my username & password. Take me to a blank application. When you have finished selecting one of these options, click Next.

Step 3- You will be redirected to the application form where another pop-up window will appear; click the link to read the Credit Card Disclosure. When you have finished reviewing the terms and conditions contained within, click Agree With Disclosure if you agree with the terms and wish to proceed.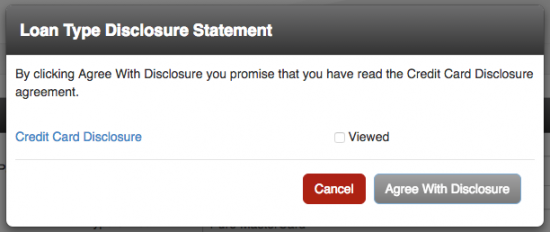 Step 4- To complete the first page of the application and proceed to the next one. You will need to be a Patelco member and provide your Member Number or qualify for membership by selecting one of the three options given and providing the necessary proof.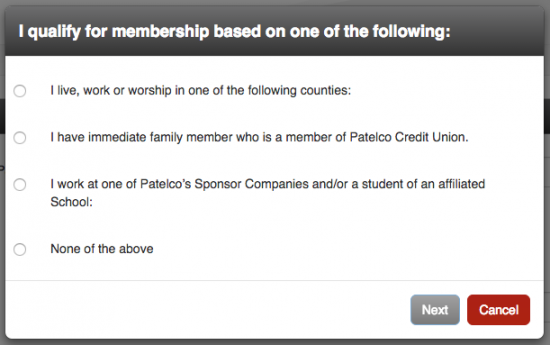 Next, you will need to enter the following additional information to complete this page:
Type of loan
Include co-applicant (if yes, tick box)
Requested amount
Request type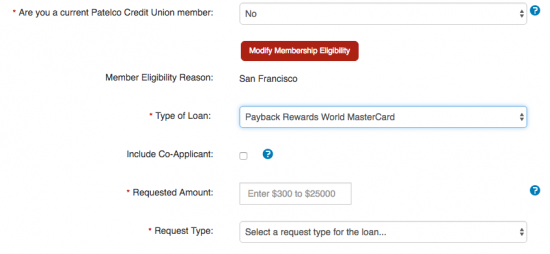 When you have inputted all this information, click Next to proceed to the next page.

Step 5- At the beginning the next page, you will provide all of the following required personal information as indicated in the section marked Applicant Personal:
Email address
First name
Last name
Suffix
Date of birth
SSN
Identification type
State that issued your ID
ID number
ID expiration date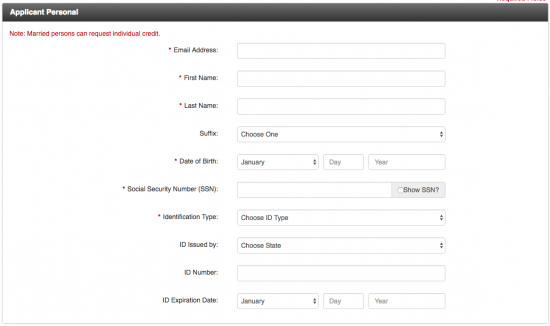 Step 6- Next, in the Applicant Residence section, all of the following information will be required:
Address
City
State
Zip code
Home phone number
Time at residence
Housing type
Monthly payment
Click Next when all of the required fields of this page are complete.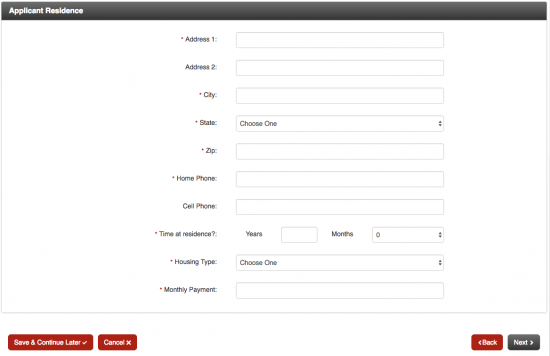 Step 7- On the next page, you will need to provide all of the employment and income information listed below as indicated on the form:
Employment status
Employer
Occupation
Time at employer
Work phone number
Yearly gross income
Other income source
Other income frequency
Income amount
After this page is completed, click Next.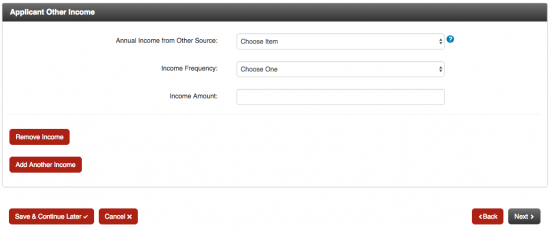 Step 8- Before you finish, you should correct any possible mistakes and enter any missing information on your application. On the final page there are a few paragraphs regarding the legal agreements of submitting this form. If you agree to these terms, tick the box marked I agree with the statement above and click Submit to finish your application.

Your application for the PCU Payback Passage Rewards World Elite MasterCard is now complete! Save Your Application Number in case you need it for future reference.

The PCU will send you a confirmation within one business day. On behalf of all of us here at cardreviews.org, we wish you the best of luck with your application and hope this guide was helpful.