The Patelco Credit Union Progress Student Rewards MasterCard is a great credit card for students. With no annual fee and an APR as low as 8.4% on purchses and 11.4% on cash advances, it is much less costly than most other credit card options (APR is subject to change). Not only that, it has a decent rewards program of 2 points per dollar spent on all school and grocery purchases, and 1 point per dollar spent on all other purchases. It's also worth mentioning that there is no balance transfer fee, so if you're looking to switch from another card, this makes it a perfect candidate to transfer the balance from your current account. On this page we have provided a step-by-step guide on how to complete an online application for the Patelco Credit Union Progress Student Rewards MasterCard. Scroll down if you would like to get started!
Before you start filling an application, be sure to check out the Patelco privacy policy to see how they protect your personal and financial information online.
Requirements
To be eligible for this card you will need to fulfill the following requirements:
Be at least 18 years of age
Have a SSN
Have a US-issued photo ID
Have a US mailing address
How to Apply
Step 1- To access a secure online application form, go to this page and click the Apply Now button.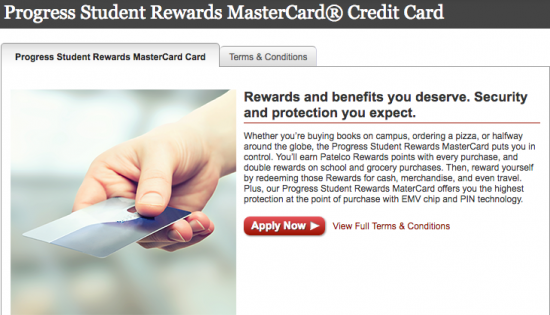 Step 2- If you are already a Patelco member, you may automatically fill your application by selecting I am a Patelco Member. I want to log in to prefill my applicaion then clicking Next. Otherwise, select I would like to become a Patelco Member or I do not remember my username & password. Take me to a blank application, and click Next next to start an application.

Step 3- Before you fill and submit your application, you will need to click Credit Card Disclosure and read the terms and conditions found with in. If you agree with the terms, click Agree With Disclosure and start filling the form.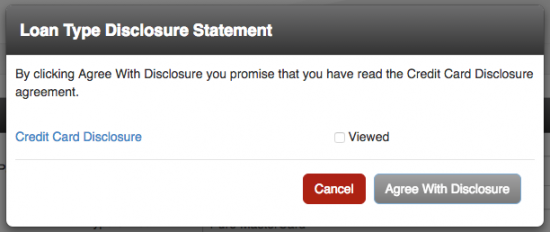 Step 4- First, select whether or not you are already a Patelco member from the pulldown menu. If you are already a member, enter your Member Number in the indicated field, if not, you will need to select one of the given qualification options then click Next. If you are not a Patelco member and you do not qualify for membership, you will not be able to successfully submit an application.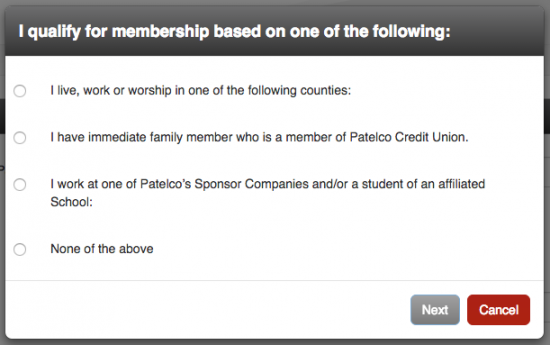 After the first question is complete, enter the following information and click Next to continue the application:

Step 5- Once on the second page of the form, enter all of the following information in the indicated spaces of the Applicant Personal window:
Email address
First name
Last name
Suffix
Date of birth
SSN
Identification type
State that issued your ID
ID number
ID expiration date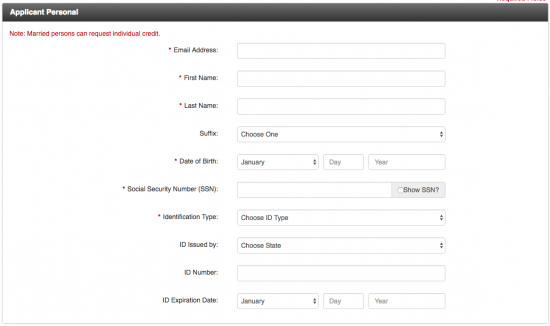 Step 6- In the Applicant Residence window you will need to provide all of the following information as indicated:
Address
City
State
Zip code
Home phone number
Time at residence
Housing type
Monthly payment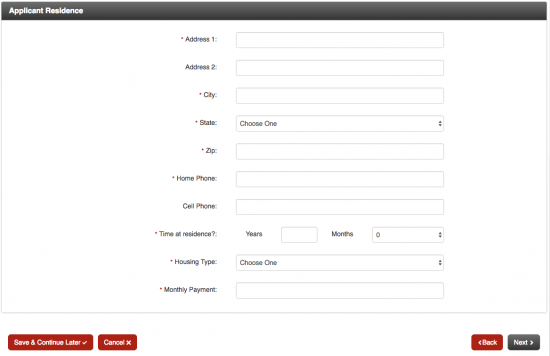 Step 7- To determine your creditworthiness, you will need to provide all of the following employment and income information in the Applicant Employment window:
Employment status
Employer
Occupation
Time at employer
Work phone number
Yearly gross income

Step 8- Next, in the Applicant Other Income window, declare any of the following additional income information, if applicable:
Other income source
Other income frequency
Income amount
When you have completed this page of the application, click Next.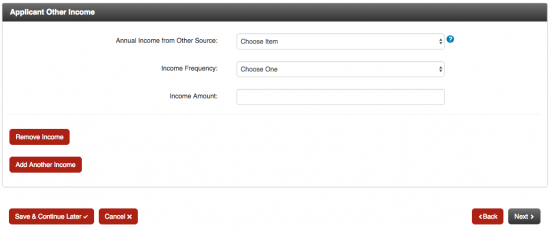 Step 9- Take a minute to go over your application and correct any possible errors or missing information. On the last page of the application, you will find some important legal information you should review before ticking the little blue box as indication of your compliance.

When you are ready, click Submit to submit your completed application.

If you have made it through all 9 steps of our guide, you should see the notice pictured above. Take note of Your Loan Application Number for reference and click Close to exit your secure application. You're all done! On behalf of all of us here at cardreviews.org, we wish you the best of luck!