The Affinity Credit Union is a Canadian credit union that prides themselves on being both transparent in their services as well as capable of tailoring their services to their customer's needs. These notions are quite apparent when examining the available credit cards that can be attained for personal usage. The Affinity Credit Union Choice Rewards World Elite MasterCard has the highest monthly fees but is also rife with elite level benefits such as health insurance while traveling, an extraordinary initial bonus of rewards points, and a rate of reward points return on eligible purchases that is head-and-shoulders better than any other card the Affinity Credit Union offers. Needless to say, it is for the individual that is both spending and making a substantial amount of money as the cost of this card is only truly offset by the massive amount of reward points that are available on eligible purchases. For those that have scoured the list of available cards and have decided that this is the right card for them, they can apply for the card online by meeting the criteria of eligibility and completing the steps below.
Before proceeding with your application, take a moment to review the CUETS privacy policy to learn how the personal information you supply will be used; CUETS is the financial institution which has partnered with Affinity to provide this credit card.
Requirements
In order to apply for the Affinity Credit Union Rewards World Elite MasterCard, you must meet the following requirements:
You are a resident of Canada and have a Canadian credit record
You are the age of majority in your province or territory
You have not filed bankruptcy in the last 7 years and have no seriously late payments
How to Apply
Step 1- You can start your application by navigating to the secure application webpage, pictured below. Click the Apply now link located underneath CHOICE REWARDS World Elite MasterCard Credit Card.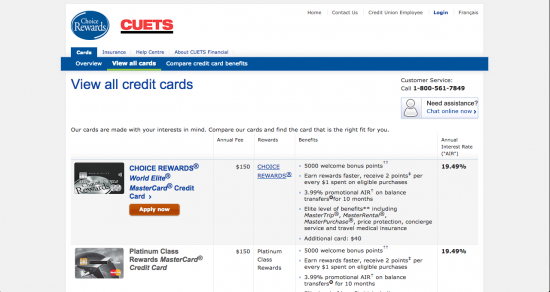 Step 2- Click Yes and type "Affinity" into the blank field that appears, as pictured below. The words "Affinity Credit Union" will appear in a drop-down window. Click Affinity Credit Union followed by Continue to proceed.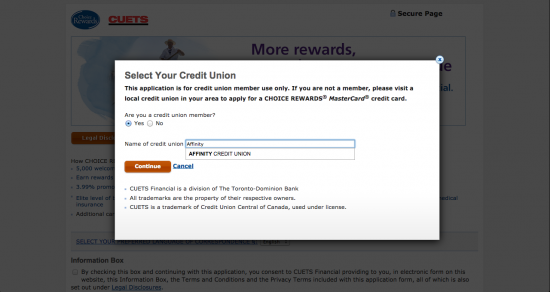 Step 3- Click on the blank tick box under the Information Box subheading to agree to receive electronic copies of the terms and conditions and the privacy terms included in the application form.

Step 4- Scroll down to the Primary Applicant's Information heading. Once there, click Yes to indicate whether or not you are a Canadian citizen. Continue by supplying the following information in the fields highlighted with a red asterisk:
First name
Last name
Home address
City
Province
Postal code
Housing status
Monthly payment
Years at current address
Is your mailing address different from your current address? (y/n)
Home phone number
Mobile phone number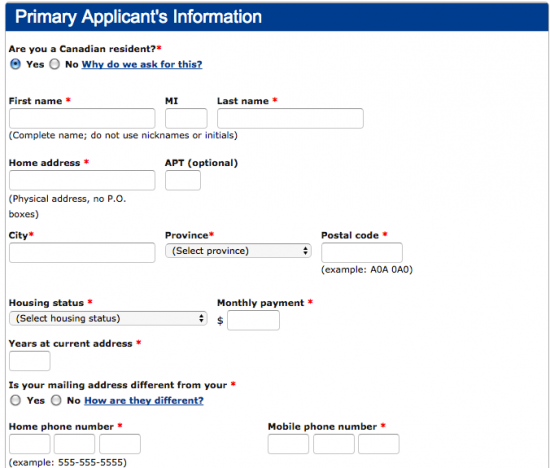 Step 5- Here, you must provide your Date of birth and your Mother's maiden name.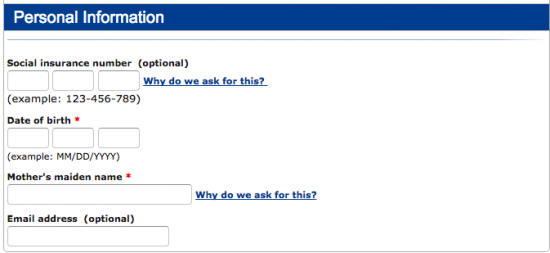 Step 6- Under Employment Information, use the drop-down menu to indicate your Employment status. The following information must then be supplied:
Company name or employer
Number of years with company
Occupation type
Occupation
Describe your position or business
Work phone number
Your income
Total annual household income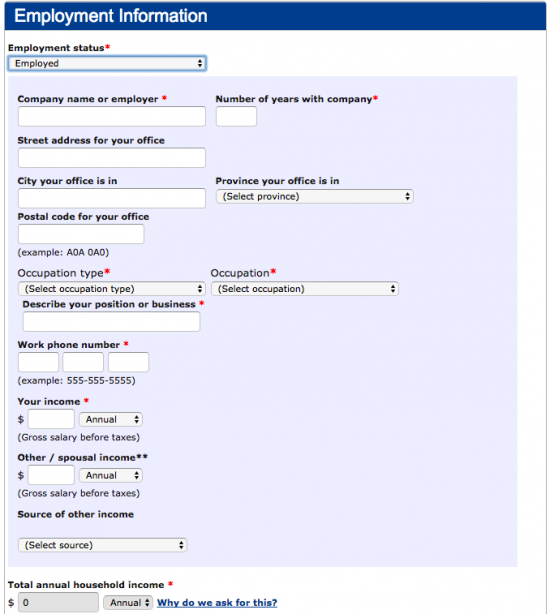 Step 7- Next, you may add an authorized user to your account, perform a balance transfer to consolidate your previous balances into one bill, and opt for card protection. Note that each of these tasks are optional and may be skipped. When you are ready to proceed, click Continue.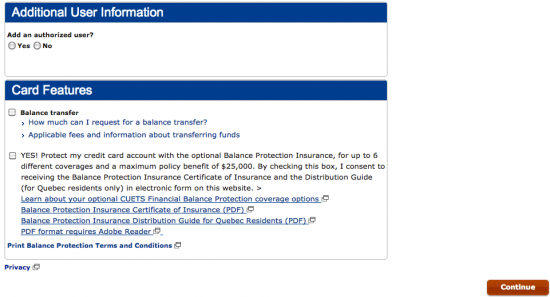 Step 8- The terms and conditions for this credit card are displayed here. Review this document over carefully to ensure that you fully understand what exactly it is you are applying for. If you agree to these terms, check the small box underneath the terms window to provide consent.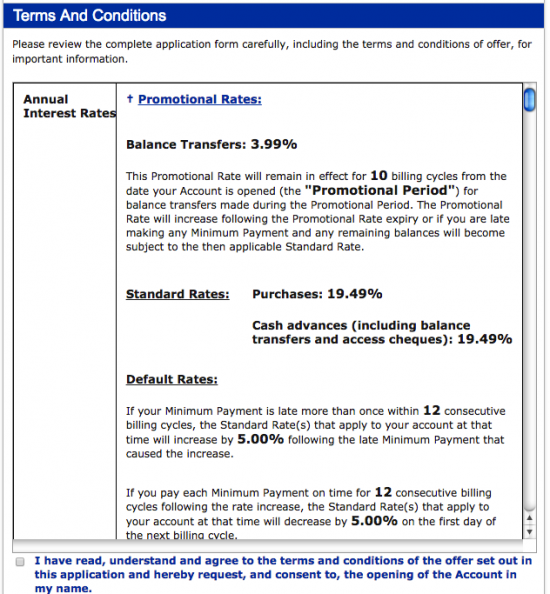 Step 9- Scroll down to the bottom of the page and click the Continue button to have your application sent in to CUETS for review, thus completing your card application.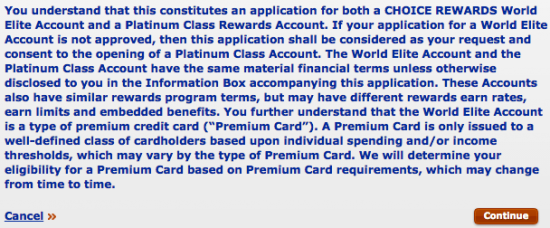 Applicants will be contacted within 14 days of submitting their application to be given approval or rejection for the credit card for which they applied. If approval or rejection has not been given within this timeframe, it is advisable to contact the nearest Affinity Credit Union branch in order to ensure that there have not been any problems with the application process.
If you have just completed all of the steps above, congratulations on applying for an Affinity Credit Union Choice Rewards World Elite MasterCard, you are one step closer to earning piles of reward points.