Hello loyal Affinity customer! If you're at this page it means one of three things; you have the Affinity Credit Union Choice Rewards World Elite MasterCard and are looking to log into your online account, you have the aforementioned card and are looking to activate it, or you are trying to find out how you can register for online banking to manage your card more efficiently. For information on logging in please scroll down to our login guide, likewise with activation and registration. It is important to note that Affinity will not be the financial institution through which your online banking will be managed, but instead you will be logging into your account through CUETS, a subsidiary of the Toronto Dominion Bank. Still, once logged into the user portal, cardholders will be able to manage their card fully, including paying bills and viewing past statements.
Before submitting any information to CUETS, please review their online privacy policy to see how your personal information will be used.
How to Login
To log into your account, simply navigate to this webpage and enter your Username in the empty field. Click Sign In to continue onto the next page.

Enter your Password here and click Submit. You online account should now be accessible and you can begin to take full advantage of the financial managing tools available on the CUETS banking portal.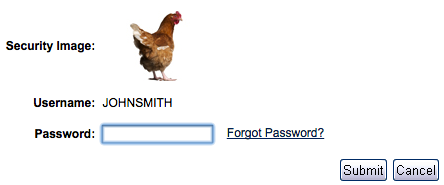 If you have forgotten your password and can't seem to access your account, click on the Forgot Password? link (located beside the Password login field) to be taken to a password retrieval page. Supply your Mother's Maiden Name and your Date of Birth to verify your identity. Lastly, click Submit and you will be provided with the means to retrieve your forgotten password.

Activation/Registration
To activate your card, you must call the number posted above this paragraph and complete the instructions given by a customer service representative. Now that your card is activated, you may register for an online banking account with CUETS by clicking on the Secure registration link (also found above this paragraph). This link will take you to an online banking portal where you can begin your account registration by clicking on the New User/Enrol Now link.

Enter your Card Number in the empty field found under the Account Information subheading. Click Submit to proceed and you will be taken to the next step in the process where you will need to supply some basic security information. Lastly, you will be asked to decide upon a username and password for your account before finalizing your registration.

Once you have completed your account registration, you will be able to begin banking online at your own convenience. Thank you for choosing Card Reviews and best of luck with your new account.