New cardholders of the First Hawaiian Bank Priority Destinations World Elite MasterCard might not be aware of First Hawaiian Bank's (FHB) recent update of their online banking services. The new and improved FHB Online will provide you with an even more convenient and secure banking platform. Once enrolled for online banking, users can log in to download statements, pay bills, transfer funds, monitor account activity, set up account alerts, and much more all from the comforts of your home. If you download their mobile app, you can even log in on your smart phone and enjoy new features such as fingerprint login, instant balance, and mobile check deposits. Those of you who haven't experienced their new online platform or have never banked with FHB before, we're here to help you complete your online banking tasks with as few headaches as possible. If you scroll down, you'll see instructions on how to log into an existing FHB online banking account, how to enroll for a new account, and how to activate your new First Hawaiian Bank Priority Destinations World Elite MasterCard.
Before submitting any information into FHB's web portal, it would be wise to look through their privacy policy first.
How to Login
Here, we will take you through the process of logging in to your new FHB Online account. If you haven't yet used the new online banking platform, all you need to begin is your current username and password. Follow this link to get to the FHB online banking page, locate the yellow LOGIN button, and click on it to continue.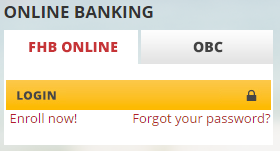 Next, enter your current Username and Password into the fields provided and click LOGIN. The subsequent pages will ask that you update your password and select 5 security questions to answer as an extra security measure. You will be asked to answer these questions when using a new computer to login or if you are having problems accessing your account. Once you've completed this last step, you will be able to gain access to your new online banking account.

If you're new online banking profile is set up and you're having problems logging in, try resetting the password for your account. To start the password recovery process, click the Forgot your Password? link (which you'll find within the login box on the main online banking page). Enter your User ID into the indicated field and click NEXT.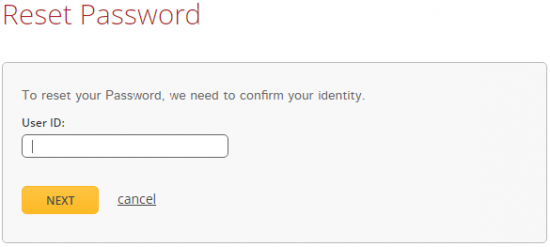 There is a phone number attached to your online account and you are asked which type of notification you wish to receive; text or call. Select your preferred contact method and click NEXT. You will receive a verification code which you can input on the subsequent page. You will be given the opportunity to create a new password for your account and log back in.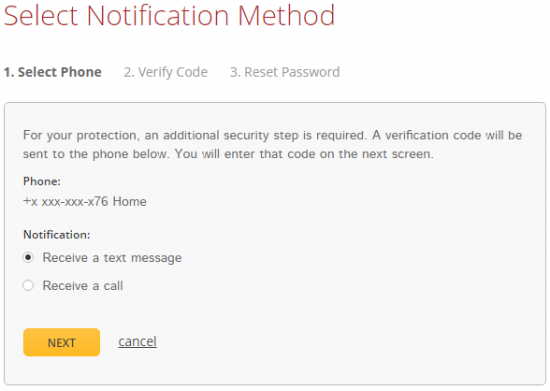 Activation/Registration
In order to get any use out of your new credit card, you'll have to activate it. You can complete the activation process with a customer service representative by calling the number we have provided above. If you'd like to enroll for online banking at this point in time, click the Secure Registration link below the activation number. You will be redirected to FHB's online banking page. Locate and click the Enroll Now! link below the yellow login button.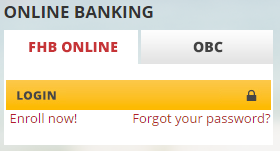 At this juncture, submit your Social Security Number, Account Number, and FHB PIN into the indicated fields and click ENROLL.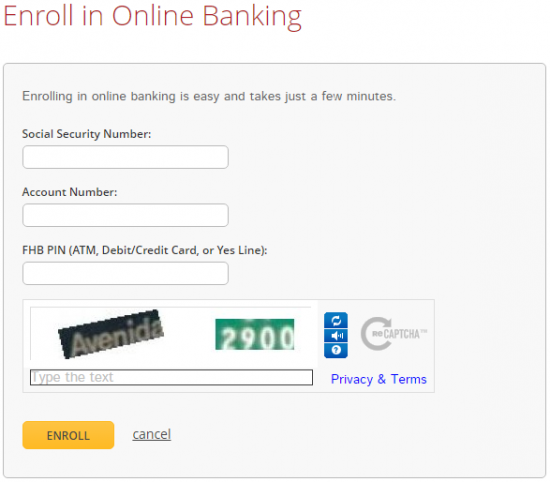 Next, create a unique User ID and Password for your account and click ENROLL.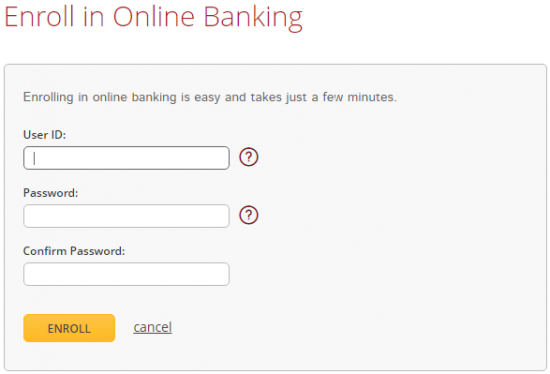 That's all there is to it. Now you can gain access to your credit card account anytime just by logging onto your FHB online banking account. Enjoy the freedom of online banking!