Are you a frequent south-pacific traveler already in some way associated financially with Bank of Hawaii (BoH)? You may want to consider the Hawaiian Airlines BoH Mastercard for it's rewards potential. The card, to be frank, is not the best I've seen. High APRs, a modest rewards program, and a staggering $98/year annual fee, all for a highly specific airline-bank partnership that could only truly favor a select few. Never the less, should you find yourself looking to apply for this card please scroll down and utilize our application guide to ensure the process is completed swiftly and thoroughly.
Read over the BoH online privacy policy before embarking on your personal application
Requirements
According to BoH all applicants must,:
Be at least eighteen (18) years of age
Have a valid US SSN
How to Apply
Navigate to the BoH card summary page and select apply online to access the secure application form.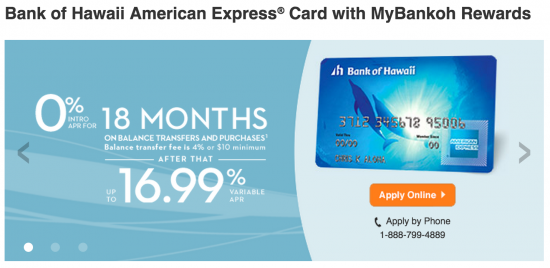 Step 1- Personal Information
BoH requires your to enter the following personal data at this juncture:
Full Name
Address
Time at Address
Housing Status
Occupation
Total Annual Income
Bank Accounts Held
Cah Advance Preferences
Phone Number
Email Address
Citizenship Status
Date of Birth
SSN
Mother's Maiden Name
Step 2- Card Options
Perform a balance transfer, if you would like to, and select your preferred billing method at this point in the application.
Step 3- Disclosures
Finally, review the terms and conditions before selecting apply and thus officially submitting your application for review.