The New York Community Bank Platinum Visa Credit Card is offered in partnership by Visa and the New York Community Bank. The card features a 0% introductory APR for the first year you have the card, allowing you to wait a year to make payments on initial transactions. There is no annual fee, and after the first year, a low APR if you have good credit history.
The New York Community Bank page may collect information about you and exchange it with other companies. If you'd like to know more about this, read the Privacy Policy on their website.
Requirements
The New York Community Bank Platinum Visa Credit Card requires that you fulfill certain criteria in order to be deemed eligible to apply. Before you apply, remember that you must be:
18 years of age
A member of the New York Community Bank
In possession of a valid social security number
In possession of a valid government-issued I.D.
How to Apply
The application process is essentially filling out an application form. You can make this process easier by preparing information you'll need such as your full address and your income information.
Follow these steps to learn how you can apply for the New York Community Bank Platinum Visa Credit Card:
Step 1: Go to This Webpage.
Step 2: The link above will direct you to the application form. Begin filling out this form with basic information such as:
Your name
Your social security number
Your date of birth
Your mother's maiden name
Your email address
Your street address (including city, state, and ZIP code)
Your home phone number
Time at current address
Housing status (own, rent or other)
Monthly housing payment
Your present employer (and their phone number)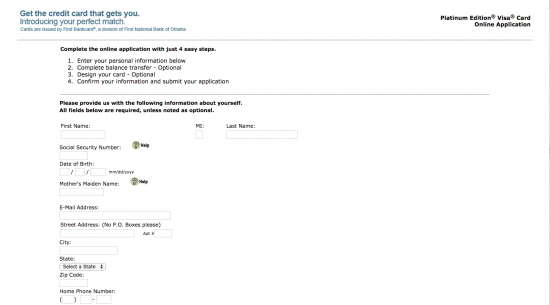 Step 3: The next section of the form focuses on your annual income. Inform New York Community Bank of how much you make every year and how much money you have in all of your bank accounts.

Step 4: In this section you must determine if you'd like to add an authorized buyer. This individual can use your card but is not legally bound to your card's balance. If you want to add a buyer, type their name in the boxes.
If you want to complete a balance transfer onto your new card, you can by clicking "Click here".
You also have an option to design your card if that appeals to you. There are many designs to choose from including an image of a dog, an image of a children's drawing, and an image of a soccer ball for those soccer enthusiasts out there. You can also opt for the standard card.
Click "Confirm Information" and you will move on to accepting the Terms and Conditions and finalizing your application.