If you're thinking about applying for the NRA Maximum Rewards Visa Credit Card, you'll want to take a few things into consideration. This card has a pretty average APR of 14.24%, but if your credit score is not up to par you could be paying up to 20.24% (APR is subject to change). The rewards program is nothing special either, giving 1 point for every dollar spent. Being an NRA member does not give cardholders any added benefits or advantages, however a very small percentage of your expenditures will be donated to the NRA. If this is something you're interested in, you might consider applying for a card with a better rewards program from a more reputable bank, because First Bankcard declines a lot more applicants than they accept. These reasons might not matter to you though, if this is the case please read on to find out how to apply for the NRA Maximum Rewards Visa Credit Card.
We suggest you read through the privacy policy of First National Bank so you can brief yourself on their methods of information sharing.
How to Apply
Step 1 – To begin, follow this link to get to the NRA section of the First Bankcard website. You'll notice a box in the bottom left corner titled Support the NRA. Click Learn More to get to the next step.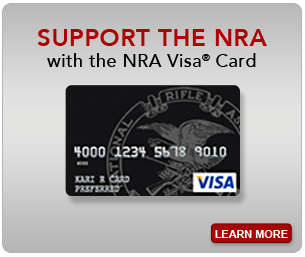 Step 2 – You're brought to the NRA Accounts website where you're presented with two choices of credit cards. Today we're applying for the NRA Maximum Rewards Visa Credit Card so you'll click on the Apply Now button found below the picture of this card.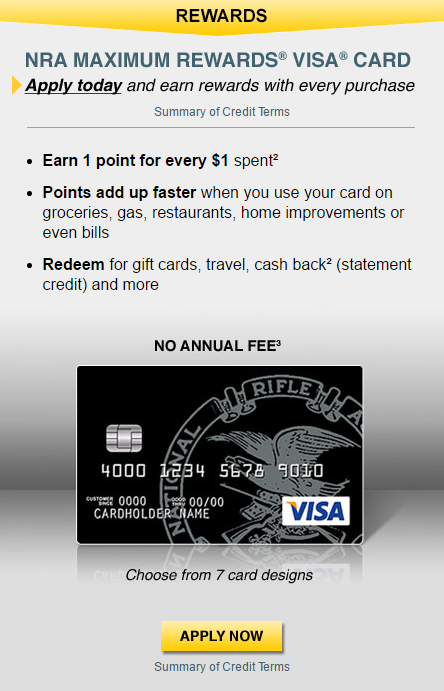 Step 3 – You are redirected again to the First National Bank application webpage. Here you'll enter in personal and financial information, the first of which will require you to enter the following data:
Name
Address
Phone number
Email address

Step 4 – The next bit of information needed is your date of birth, social security number and mother's maiden name.

Step 5 – Following that is your housing status (whether or not you own or rent), how many years you've been at this address as well as how much you pay on a monthly basis.

Step 6 – In the next group of fields where you'll be asked about your present employment information, which includes a phone number and your annual income.

Step 7 – This step isn't completely necessary, it only applies to those who would like to add an additional user to your account. If you wish to do so, enter their name in the fields provided. If not, skip this step.

Step 8 – You're almost done, all you have to do is enter any balance transfer information and pick your card design. If you do not wish to make any balance transfers at this time, you can skip the first part of this step. The card design drop down box is also not a mandatory field, but should you want to pick a design that better suits your style, click on Select a Card to pick one of the seven options provided.

Read through the terms and conditions and you have now completed the application process for the NRA Maximum Rewards Visa Credit Card, congratulations! We hope this tutorial has been helpful to you and that you're application for this credit card is a success.