The Peebles Credit Card is perfect for those who are consistent shoppers at Peebles. With a strong rewards program associated with the credit card, one can easily save some money while using it for purchases at Peebles.
Using the card online is easy. Once logged in, one can pay bills, view card statements, and update billing information in case of an address change.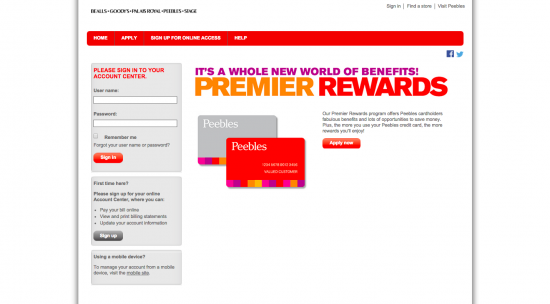 Make a Payment
In order to login, Peebles Credit Card card holders must enter their user name and password in the blank fields provided in the grey box located under "Please sign in to your account center".
For easier access on a return visit, tick the box next to the "Remember me" text.
In the case of a forgotten user name or password, one can click the link under "Remember me".
Activation
In the case that this is a card holder's first visit to the Peebles Credit Card website, they can register their card by clicking the "Secure Activation" link above.
After accessing this link, click the "Yes" button to indicate that you have a card number on hand that you can enter in.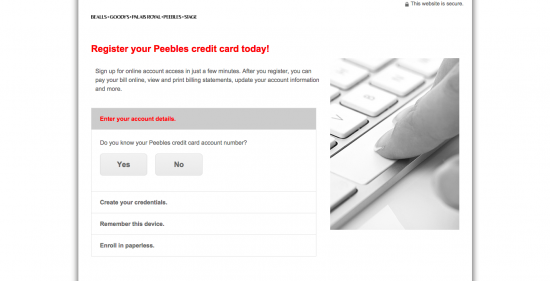 You will then be prompted to enter in your:
Peebles Credit Card number
Social security number
ZIP code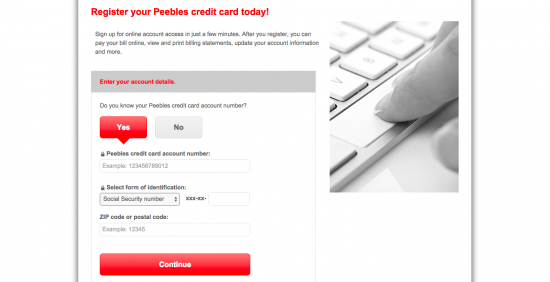 Next, simply click the red "Continue" button. You will then be required to create your user name and password, decide whether you would like to remember your device, and enrol in paperless credit statements. Congratulations, your Peebles Credit Card has now been securely activated!