The Ritz-Carlton Hotels are one of the more luxurious hotel chains in the world, providing over 90 hotels and resorts in numerous cities around the world. They have won many prestigious hospitality awards over the years, awarded for their excellent service and for offering high class tourism and dining experiences. If you're looking into the Ritz-Carlton Rewards Credit Card, then you're probably someone who frequents their distinguished chain of hotels. This card offers all the benefits and features you need to travel and explore the Ritz-Carlton hotels all over the world. The basic rewards program is this: you'll earn 1 point for every $1 spent, however, at restaurants, on airline tickets and at car rental agencies, you can expect twice that amount. Furthermore, on all purchases made at Ritz-Carlton and Marriott locations, you'll earn a whopping 5 points! At the end of the year you will be rewarded with 10% bonus on all the points you've earned in that year. Not only that, but when you make your first purchase, and add another cardholder to the account, you are eligible to receive 10,000 bonus points. These rewards points can be redeemed on hotel rooms and upgrades, travel packages, airline miles or various gift cards, and they never expire. Another enticing opportunity that goes along with this card is the complimentary 3 night stay at participating Ritz-Carlton. This offer is redeemable if you make $5,000 in purchases within the first 3 months of activating the account. The list of features and benefits goes on and on, including annual travel credit, worldwide airport lounge access and much more. An important aspect to be aware of when looking into a credit card is the interest rate. The Ritz-Carlton Rewards Credit Card's APR is anywhere from 16.24% and 23.24% (APR is subject to change). Only those with excellent credit score will see the lowest percentage; it's a bit above average, but not outrageously so. It's also worth noting that these benefits come at a considerable cost as this card demands a $450 annual fee. If you find the cards pros outweigh the cons, we can help you apply for the Ritz-Carlton Rewards Credit Card today.
Before submitting any personal or financial information, read through JPMorgan Chase's privacy policy.
Requirements
Applicants must meet the following criteria to be eligible for this card:
Must be 18 years of age or older
Must have a valid Social Security number
Must have a valid US address
How to Apply
Step 1 – To get to the Ritz-Carlton Rewards Credit Card application form, navigate to the Ritz-Carlton credit card page on Chase Bank's website. Find the green Apply Now button and click on it to continue.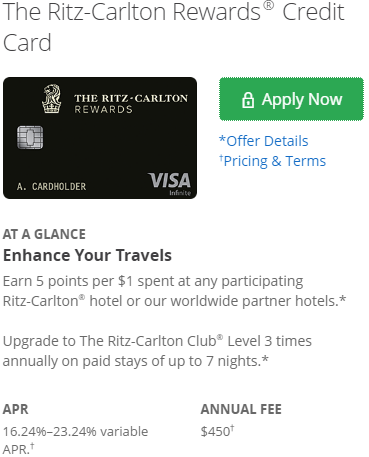 Step 2 – In the first part of the application form, you need to provide your full name and physical address. If you have a Ritz-Carlton Rewards Number already, you may enter it at the bottom. Click Next to continue.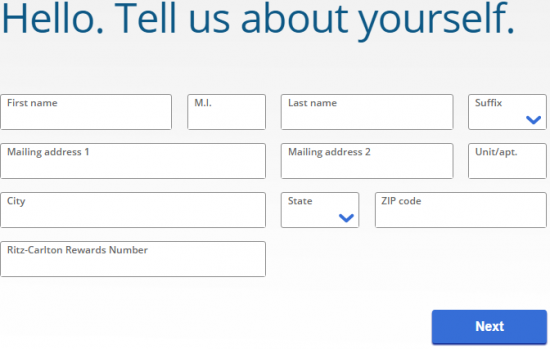 Step 3 – Here, you're required to provide the following information:
Types of accounts open with Chase Bank
Type of residence
Gross annual income
Source of income
Employer
Click Next to go to the next section.

Step 4 – In this section they ask you to enter your phone number, Email address, Date of birth, Social Security number and Mother's maiden name. Click Next when you're ready to proceed.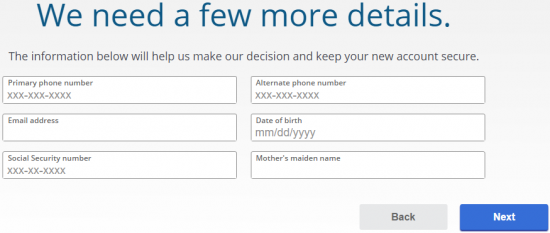 Step 5 – At this point in time you may add an additional user to the account. Enter the name and address of the applicant, should you wish to add someone to your account.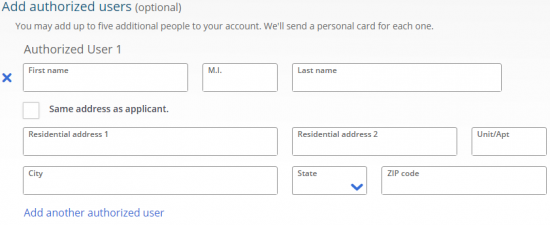 Step 6 – Below the additional users section are the terms and conditions, and the certifications. You must read and accept them before ticking the box next to I have read and I agree to the Certifications and Pricing & Terms. Click Submit to complete the application process.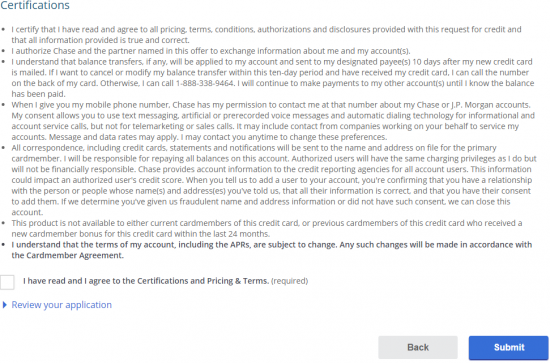 Congratulations, you have successfully applied for the Ritz-Carlton Rewards Credit Card. We hope this tutorial has proven useful to you. Best of luck!