St. Louis Blues fans will be happy about this one. Commerce Bank, an institution that routinely powers affordably-structured rewards cards, has devoted one to the St. Louis Blues such that, in addition to the normal rewards programs offered, there is the added bonus of cardholders being privy to exclusive packages and discounts on all things Blues through the course of the season.
Make sure you read through the Commerce Bank Privacy Policy before applying. It's a dangerous time to be careless with sensitive personal information on the web.
Requirements
Potential cardholders must meet the following requirements, alongside being a raging Blues fan, before applying:
Be at least 18 years of age
Have a valid US street address
Have a valid SSN
How to Apply
Commerce's card summary page, located here, details the specifics of the kinds of rewards you can expect to receive with this card. From the page, if you select the blue apply now link, you will find the secured application.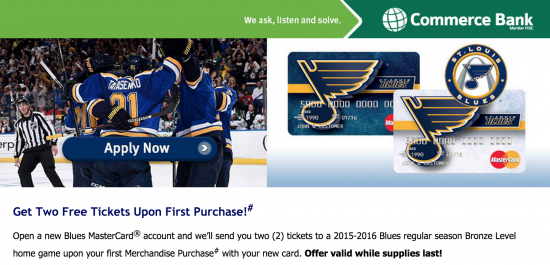 Step 1- Terms and Conditions
The terms and conditions are, strangely, located at the start of the application. This is a good show of faith on Commerce's part, in that they allow you to scrutinize the fine print before wasting time filling in an application that you otherwise aren't interested in. If it all looks good continue by selecting I Agree link.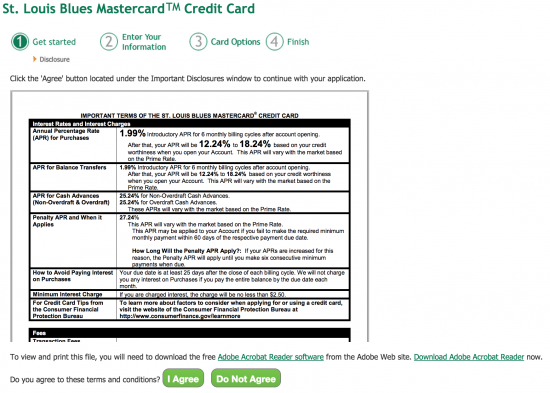 Step 2- General Information
Input your identification information into the provided fields at this point:
Full name
Address
Phone number
Email address
Duration at address
Date of birth
SSN
Mother's maiden name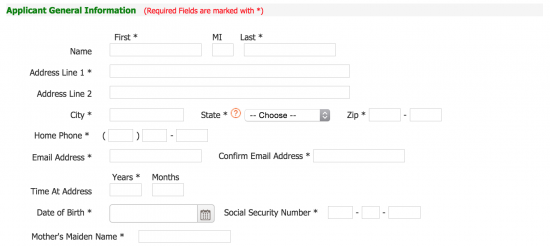 Step 3- Employment and Financial Information
Commerce must be able to evaluate you as a potential cardholder, and in order to do that they require some basic financial information to be submitted here:
Occupation
Employer
Time with employer
Work phone number
Total annual income
Other income
Housing status
Monthly housing payment
Nearest relative full name / relationship
Step 4- Additional Questions
If you have gone bankrupt in the last ten years or, unrelatedly, if you are not a US resident, you must make it clear at this point.

Step 5- Final Questions
Before submitting your application for review, you have the option of adding a co-applicant, performing a balance transfer, linking your soon-to-be card with an existing Commerce account, or purchasing overdraft protection, should you want to.