In case you somehow aren't fully aware, the environment is collapsing and people are responsible. If you would like to feel good about this while still spending and upholding the very consumerism that has driven this catastrophe, then take a look a the Sustain:Green Mastercard Credit Card powered by Commerce Bank. The card reduces your carbon footprint (not really, it technically only purchases carbon credits from the US government, essentially passing the buck to them to make the real necessary changes in the fight again global environmental change) for each dollar you spend with it. Problem solved!
Before applying read through both the Commerce Bank Privacy Policy and the Sustain:Green Privacy Policy to make sure your information is properly protected.
Requirements
Applicants must meet these requirements if they intend on applying for this earth-saving, biodegradable credit card:
Be at least 18 years of age
Have a valid US street address
Have a valid SSN
How to Apply
The application for this card is two-pronged: first, you must create an account withSustain:Green, and second, you must apply through Commerce for the actual card. The first section is available here at the card summary page Sustain:Green has set up. To begin the process click the Get Credit Card- Apply Now link within the blue box pictured below.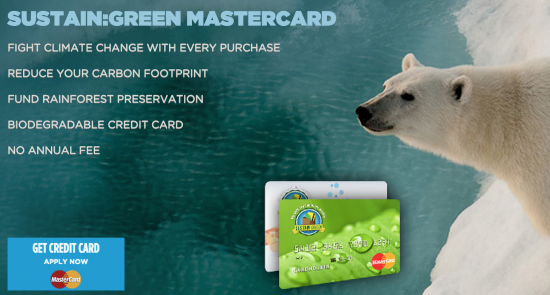 Step 1- Enrollment
Enter the following information in order to enrol in the Sustain:Green program:
Full name
Address
Postal Code
Email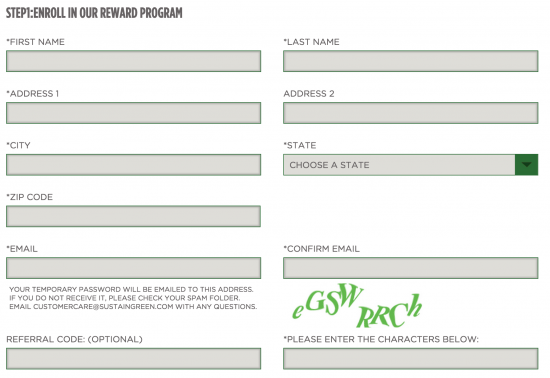 Look over the terms and conditions and then, if you approve, select complete application to continue on to the Commerce website.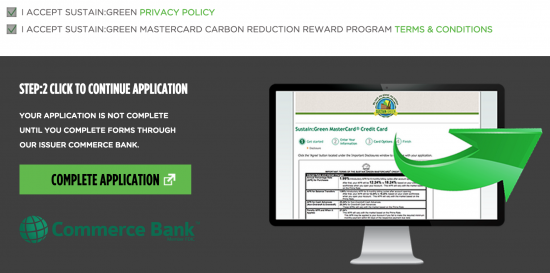 Step 2- Terms and Conditions
Just in case you aren't sick of reading terms and conditions forms yet, look over the corresponding terms and conditions form for the Commerce credit card to ensure that you are fully aware of all fee and bill structure inherent in the card. If you assent select I Agree and continue with the application.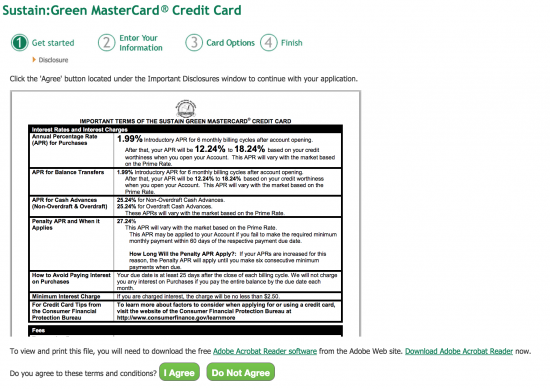 Step 3- General Information
Please provide the following personal information to Commerce here:
Full name
Address
Phone number
Email address
Duration at address
Date of birth
SSN
Mother's maiden name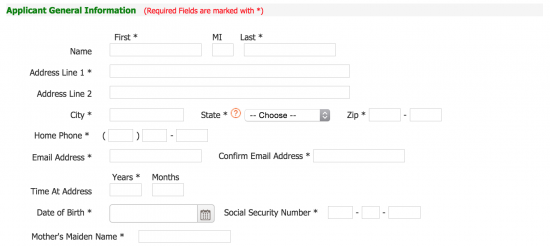 Step 4- Employment and Financial Information
In order for Commerce to construct a financial profile for you you must needs submit the following financial and employment information to their site:
Occupation
Employer
Time with employer
Work phone number
Total annual income
Other income
Housing status
Monthly housing payment
Nearest relative full name / relationship
Step 5- Additional Questions
If you have declared bankruptcy in the last ten years or if you are not a US permanent resident indicate as such here.

Step 6- Final Questions
If you are looking to add a co-applicant, perform a balance transfer from another credit card, link this card to another Commerce account, or purchase overdraft protection, you may do so at this point. If everything in your application is complete and accurate submit it to Commerce and await your judgement.