The Sustain: Green Mastercard Credit Card allows cardholders to fight climate change with every purchases they make. The card is biodegradable and features no annual fee. Sustain Green claims that one can reduce their carbon footprint simply by using this credit card over others.
The card can also be managed from the comfort of your own home. Read on for instructions on how to login and how to make payments on your card.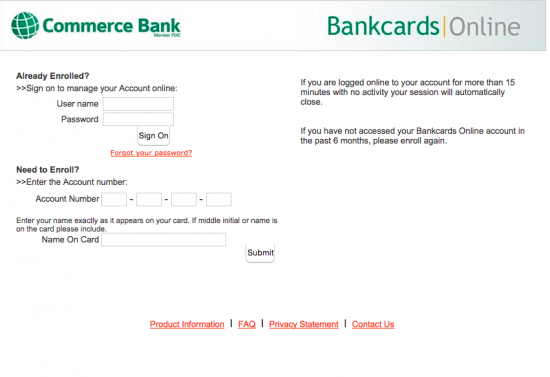 Make a Payment
In order to make a payment and accomplish other tasks with your card, you must login to your account. To do so, click on the image of the Commerce Bank login page above. Enter your User name and password and click "Sign On" and you will be logged in.
Inside the portal, with your online account, you are able to make payments, change your address, and opt for e-statements over traditional mailed statements.
Activation
Activating your card is almost as easy as logging into your online account. On the same page that you login with, just enter your account number and your name as it is listed on the card.
If you can't find your account number, it is located on card statement sent to your home.
Once you're finished entering in these two pieces of information you are ready to click "Submit". Your card is now activated and you can begin to use your card online.