Managing your Green America Credit Card has never been easier than with TCM Bank's online banking service (mycardstatement.com). By accessing your account online, you can perform a variety of financial management operations, including reviewing past statements, transferring funds and paying bills. The below tutorial will provide you with step-by-step instructions on how to activate your new credit card, how to enroll in online banking, and how to log into the secure online portal. Scroll down to get started!
Be sure to review TCM Bank's privacy policy to get a full understanding of how your personal information will be used.
How to Login
Click here to access the mycardstatement.com online banking portal. Once there, enter your Username in the empty field found and click Log In to proceed.

Supply the answer to your security question in the blank field and select Yes or No to indicate whether or not the computer or mobile device you are operating from is private. After providing the requisite pieces of information, click Continue to be granted access to your online banking account.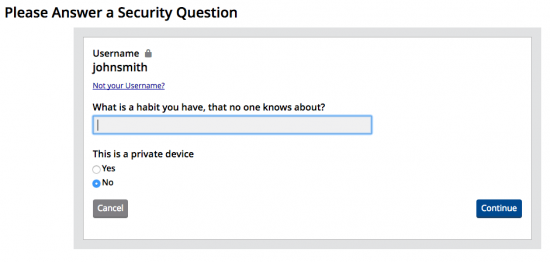 In the even that you have forgotten your login credentials, click on the Forgot your username? link found in the login menu. On the following page, supply your Credit Card Number and click Begin Forgot Username to proceed. Complete the instructions found on the subsequent pages to retrieve your forgotten username.

Activation/Registration
If you have yet to activate your Green America Credit Card, call the number posted above this paragraph and follow the instructions provided by the automated messaging system and/or a customer service representative. Once your card has been activated, you can begin banking online through the use of an online account with mycardstatement.com. To create an account, click on the Secure registration link (also posted above this paragraph). This link will take you to enrollment webpage where you must supply your Credit Card Number and click Begin Enrollment. On the pages that follow, you will need to supply additional pieces of personal information and set up your login credentials. Once this process is complete, you will be able to use your account to bank online. Thank you for choosing Card Reviews as your credit card specialist and best of luck with your new account!