Cardholders of the Sierra Club Credit Card can manage their finances through the use of an online banking account with mycardstatement.com. By logging into a personalized account from any computer, tablet or mobile device, it is possible to make payments and transfers, check bank statements, pay bills, and take full advantage of all the financial tools available on their website. For those unfamiliar with online banking, we have provided a brief tutorial below which explains the card activation, online registration, and login procedures that must be completed before online banking is possible. Get started by scrolling down.
This credit card has been issued by TCM Bank. We recommend reviewing their online privacy policy to get a full understanding of how your personal information will be used.
How to Login
We have provided a link to the online banking portal here so that you can get started with the login process. Once the page has loaded, enter your Username in the empty field and click Log In to proceed

On this page, supply the answer to your security question in the empty field. Just below that, select Yes or No to indicate whether or not the device you are currently operating from is private. Click Continue after supplying the requisite information and access to your online banking account will be granted.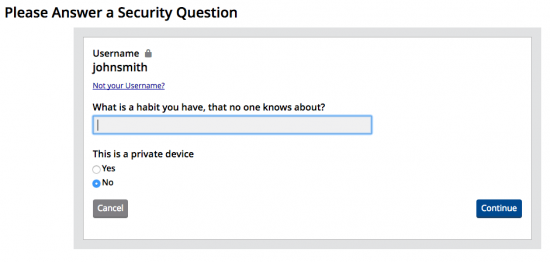 If you've forgotten your username and are unable to login, click on the Forgot your username? link located below the login field. Supply your Credit Card Number on the following page and click Begin Forgot Username to proceed. Complete the instructions found on the subsequent pages to retrieve your forgotten username.

Activation/Registration
Before you can start using your Sierra Club Credit Card to bank online or make purchases, you must go through the card activation process. You can activate your credit card by calling the number located above and completing the simple instructions provided over the phone. Once you've activated your card, you can begin the enrollment process for an online banking account by clicking on the Secure registration link that can also be found above this paragraph. On the enrollment webpage, supply your Credit Card Number and click Begin Enrollment to proceed. The subsequent pages will require you to supply some additional pieces of information as well as set up your login credentials. After you've completed the enrollment process, your personalized account will be ready for use and you can begin banking online today!

Thank you for choosing Card Reviews as your credit card expert. We wish you the best of luck with your new account and in all of your future banking endeavors.