The American Express Business Green Rewards Credit Card is a customizable card that should appeal to businesses of all sizes. One thing that needs to be made explicitly clear about this card is that it is a charge card and necessitates that the outstanding balance be paid in full every month. This will be difficult for businesses that need to maintain a floating balance and have a fluctuating income, and it is recommended that those businesses avoid this card as it will only lead to headaches. If you are a business owner and feel that a charge card is suitable for your business, the American Express Business Green Rewards Credit Card is one to look into. The card has a $95 annual fee, a return of 1 reward point on every $1 spent on eligible purchases, 2 reward points per $1 spent on the American Express Travel website, and a flexible spending limit. The flexible spending limit is a unique feature to the American Express Business Green Rewards Credit Card and the smart business person will be able to utilize this buying power to maximize their business' efficiency and market share. On top of all of these features, you get to choose from over 500 different brands as to where your reward points can be exchanged. If you are interested in applying for this card, follow the steps listed below to complete the application process.
Before proceeding, take a moment to review the American Express privacy policy to see how your personal information is going to be used.
Requirements
Potential cardholders must ensure that they meet the following criteria of eligibility:
Be a resident of the United States
Be 18 years of age or older
Have a valid SSN
How to Apply
Step 1- Start by clicking here to be taken to the credit card homepage. Locate the Apply button and select it to access the online application form.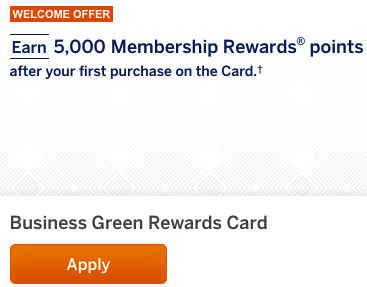 Step 2- Now that you have the application on screen, you can begin filling it in by supplying the following:
Email address
Legal business name
Business name on card
Business address line 1
Zip code
Business phone number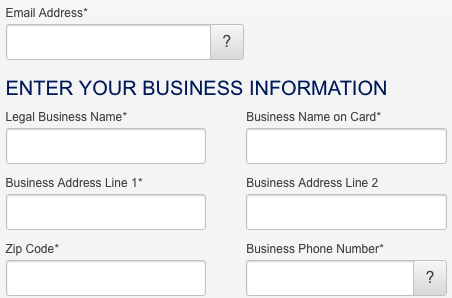 Step 3- Here you must specify the Industry Type and the Company Structure of your business. Next, indicate the Years in Business and enter the Number of Employees, Annual Business Revenue, and Estimated Monthly Spend.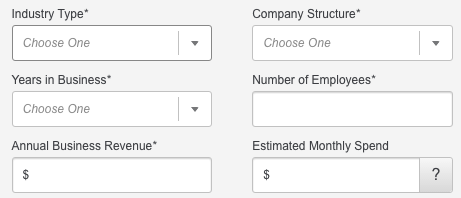 Step 4- Enter your business' Federal Tax ID and click Continue to proceed to the next page.

Step 5- Regarding your personal information, supply your First Name, Last Name, Home address Line 1, and your Zip Code.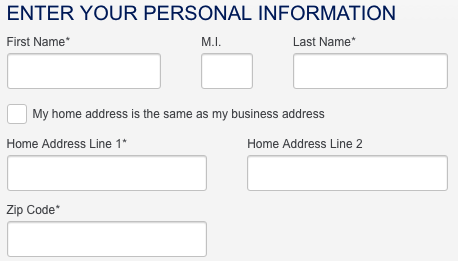 Step 6- Continue by providing your Home Phone Number, Social Security Number, Date Of Birth, Total Annual Income, and Non-taxable Annual Income (if any).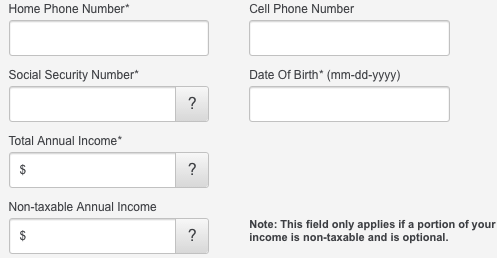 Step 7- Let American Express know where they should send your bills by selecting either Business or Home. After making your selection, click Verify Application.

Step 8- Scroll down to the bottom of the page and you should see the terms and conditions. Review this document to ensure that you agree with the pricing information and other fine print details described within its contents. When you're ready to proceed, click Submit Application and your card request will be sent to American Express for assessment. Approval or rejection of your application should be received in as little as 60 seconds of submission.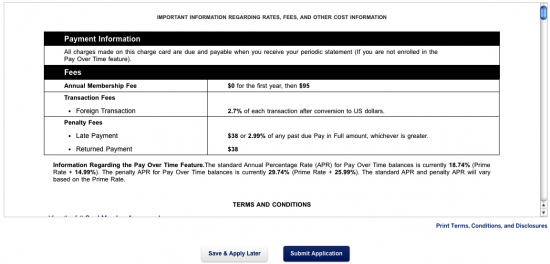 Thank you for choosing Card Reviews today as your guide through the online application procedure. Best of luck with your new card and take care!