The American Express Blue for Business Credit Card is a credit option that rewards customer loyalty. It is an excellent card for businesses of all sizes and should rank high on the list of potential cards for prospecting applicants. This card has a $0 annual fee and an introductory purchase APR of 0% that will last for the first 9 months. Once this introductory period has expired, you will receive a variable APR of either 11.74%, 15.74% or 19.74%, depending on your creditworthiness (APR is subject to change). The rewards program that's available through this offer awards 1 point for ever $1 spent with the card. As part of the American Express Relationship Bonus, cardholders receive 30% more reward points each year that they have the card. If that wasn't enough, 10,000 bonus reward points will be given after you make your first purchase within the first 3 months of card membership. Look to our instructional guide below if you'd like to learn how you can apply for the American Express Blue for Business Credit Card.
Before proceeding, take a look at the American Express privacy policy to see the way in which the personal information you supply online will be used.
Requirements
Potential cardholders must ensure that they meet the criteria of eligibility before beginning the application process. In order to apply, you must:
Be a resident of the United States
Be 18 years of age or older
Have a valid SSN
How to Apply
Step 1- Applying for the American Express Blue for Business Credit Card is simple. To start, navigate to this webpage and select the Apply button to access the application form.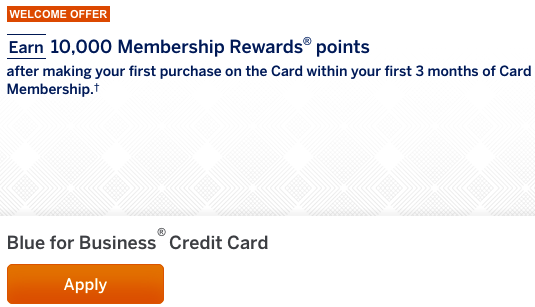 Step 2- Provide your Email Address in the first field found at the top of the page. Just underneath that, enter your Legal Business Name, the Business Name on Card, Business Address Line 1, Zip Code, and Business Phone Number.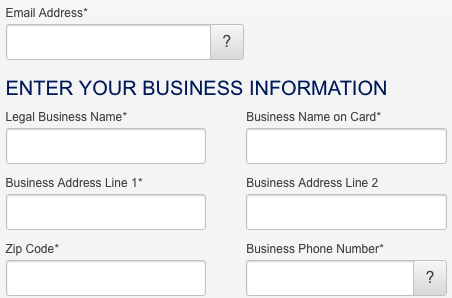 Step 3- Use the drop-down menus to indicate your organization's Industry Type, Company Structure, and your Years in Business. Continue by typing in the Number of Employees working for your organization, your Annual Business Revenue and the Estimated Monthly Spend.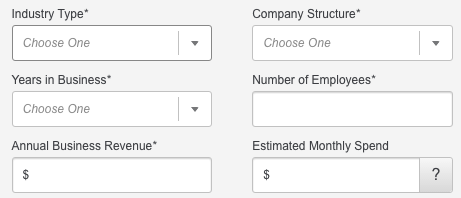 Step 4- Before you can continue, you are asked to provide American Express with your Federal Tax ID (EIN). Click Continue once all of your business information has been supplied.

Step 5- This portion of the application process is where you'll need to supply your personal information. If your home address is the same as your business address, check the small box to indicate this (pictured below). If not, give your First Name, Last Name, Home Address Line 1, and Zip Code.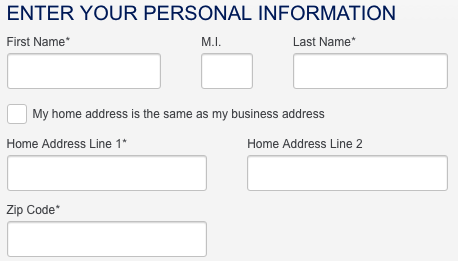 Step 6- Continue by supplying your Home Phone Number, Social Security Number, Date of Birth, and your Total Annual Income. If you have any Non-taxable Annual Income, type this in the last field.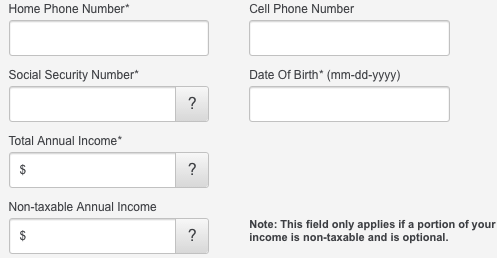 Step 7- Select one of the two options available here to specify where you'd like American Express to send your bills. Click Verify Application after making your selection.

Step 8- Scroll down to the bottom of this page until you see the terms and conditions associated with this credit card. Make sure you have read the document over carefully to ensure that you are fully aware of the billing structure, fees, and any other fine print details that determine the way in which your card will operate. Finally, click Submit Application to have your card request sent in to American Express for review. A response should be received via email in as little as 60 seconds.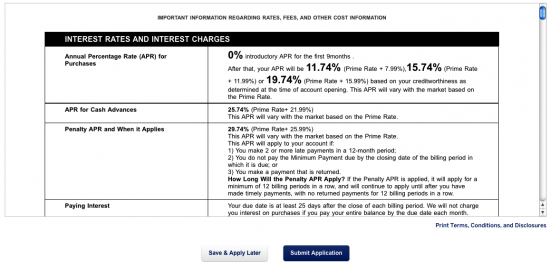 You have now completed the application process for the American Express Blue for Business Credit Card. We hope that you found this tutorial helpful and we want to thank you for using our services today. Best of luck!