American Express and Costco have teamed up to offer you, the potential cardholder, a credit card that is the perfect compliment to your Costco membership. The American Express TrueEarnings Business credit card maintains a $0 annual fee and a number of amazing discounts such as 4% cash back on gasoline purchases at Costco fueling stations, 2% cash back at U.S. restaurants, 2% cash back on eligible travel purchases, and 1% cash back on all other Costco purchases. You could remove the last three benefits and leave the 4% cash back on gas purchases and the card would warrant a 5/5 review. Add the other benefits and this card is a definite must have for anyone who has a Costco membership. Now, here comes the bad part…this card is going to be discontinued as of March 31st, 2016 which means you only have a minimal amount of time to reap the rewards that are available. If you are interested, which you should be, follow the steps listed below to complete the application process.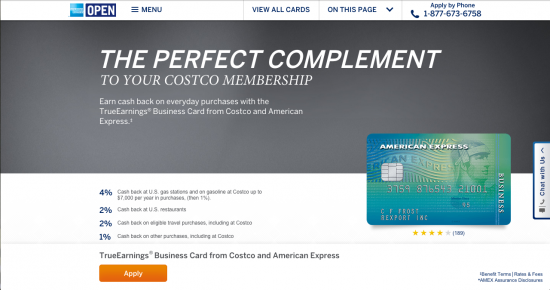 Requirements
Applicants must ensure that they meet all of the criteria of eligibility before beginning the application process. The requirements are as follows:
Be a resident of the United States of America
Be 18 years of age or older
Have a valid Costco membership
Once you are certain you meet these requirements, follow the steps below to complete the application process.
How to Apply
Step 1: Navigate to the secure login webpage, pictured below. Either click the words "secure login webpage" in the previous sentence, or click any of the pictures on this webpage to get there.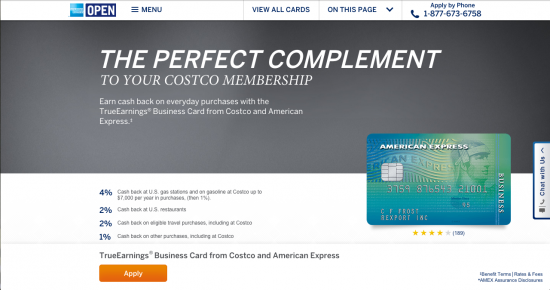 Step 2: Click the orange "Apply" button.
Step 3: Input the following information in the applicable blank field, keeping in mind that the only fields that you need to fill in are the ones marked with an asterisk (*):
Your
Costco membership number
E-mail address
Legal business
Name you wish to appear on your card
Business address
Business zip code
Business phone number
Annual business revenue
Step 4: Click the blue "Continue" button to continue.
Step 5: Enter the required personal information, such as:
Your
First and last name
Home address
Home zip code
Home city
Home state
Social security number
Step 6: Click the blue "Continue" button to finalize your application.
Once you have completed each of these steps, you will have completed the application process for the American Express TrueEarnings Business credit card. You will approval or rejection of your application within 60 seconds of submitting the application. If you do not receive approval or rejection within that timeframe, it is advisable that you contact American Express directly as there has been some sort of unexpected technical difficulty.