Costco fanatics may well end up at this page, sitting in front of their screens and weighing the pros and cons of enrolling in the Amex TrueEarnings Costco Credit Card. "Do I spend enough (up to $4,000) on any single credit card in a year to justify a rewards card?" "Do I want those rewards in the form of an annual Costco coupon?" The architecture behind this card is the basic Amex cash-back structure (3%, 2%, 1% split) highlighting gas stations and restaurants as the big rewards targets, but unlike many other cash rewards cards (including those offered by Amex) your earning are delivered in a branded coupon as opposed to being cash-redeemable. Furthermore, their is no rewards-based incentive for shopping at Costco, the cash-back being calculated by type of purchase, and not locale. Essentially, you spend money just like you always would, and you earn the same rewards that you would with, say, the Amex Everyday Rewards Credit Card, but instead of redeeming those points in the form of cash or a broad rewards program you are forced to spend it all at Costco, a vendor that gives you literally nothing extra despite you owning their brand credit card. I do not recommend this card as it seems like a scheme to me, but if you are inclined despite my scholarly advice to apply, please read further to find our official application guide.
Before applying always review the Online Privacy Policy of a given card-vendor to ensure that your information is being handled appropriately.
Requirements
Applicants must:
Be a US resident (have a valid US street address)
Have a valid US SSN
Be at least 18 years of age
How to Apply
You will find the secure application page available within the Amex card summary page (shown below) which houses basic information about the rewards structure of the card, as well as a link to the terms and conditions (read these). Accessing the application is as easy as selecting the blue apply now link.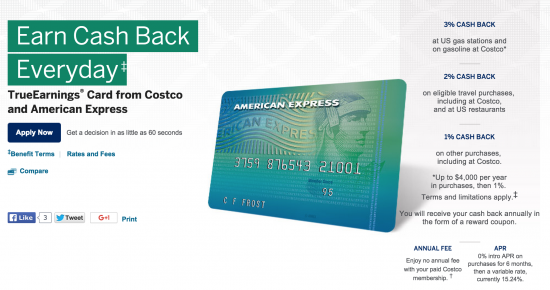 Step 1- Personal Information
For the first page of the application input the following information:
Full name
Name on card
Email address
SSN
Date of birth
Phone number
Home address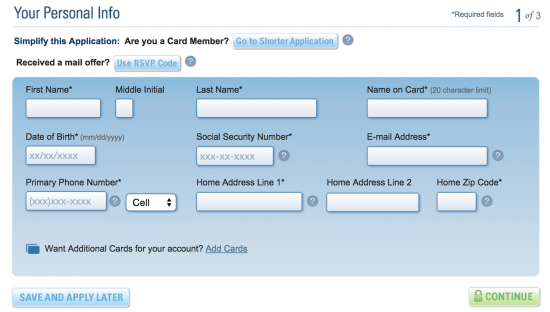 Should you wish to include some lucky individual in your rewards mission you may do so at this point by simply adding them as an additional cardholder.
Step 2- Financial Information
On the second page of the application you will have to enter the following pieces of financial information in order for Amex to determine your creditworthiness:
Employer name
Employer city/state
Employer phone number
Income source
Total annual income
Bank accounts held
Housing status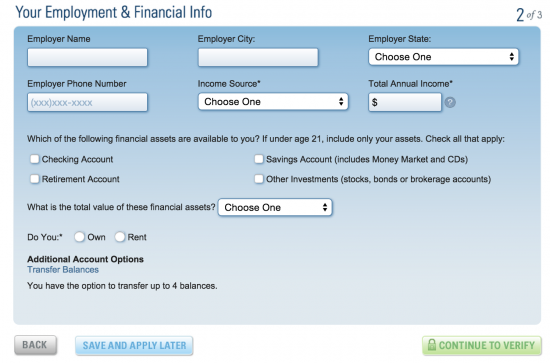 For those looking to consolidate debt Amex has setup a feature at this point by which you may perform up to 4 balance transfers from any major credit card onto your new Amex card, should you be approved.
Step 3- Submission
You read the terms and conditions, right? Good. I'll be going off the assumption that you've agreed to them and are ready to submit your application. Do so at this point and await your response from Amex!