I'm a little suspicious about the very idea of Mercedes-Benz drivers being in the specific financial circumstance in which they would find a low-rewards Amex card appetizing, but here it is regardless: the Mercedes-Benz Amex Credit Card. The APRs are standard, the rewards strangely small ($500 points a year towards your next Mercedes??), and the card has the immediately recognizable MB logo superimposed on it. If you want to start saving (very, very slowly) for your next Mercedes by spending money Amex is crediting you for, this card may just be for you. In that case, look below for our application guide.
Before applying for any card always read the card company's Online Privacy Policy to be sure your information is being treated carefully.
How to Apply
Select the blue apply now link from the Amex card summary page in order to access the secure application form.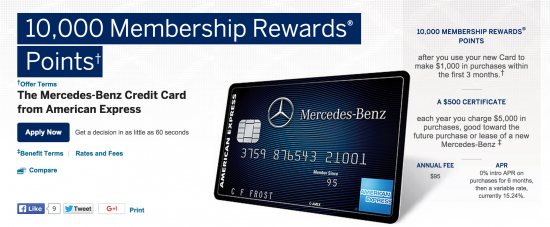 Step 1- Personal Information
In order to continue with the application you must submit the following personal identification information:
Full name
Name on card
Email address
SSN
Date of birth
Phone number
Home address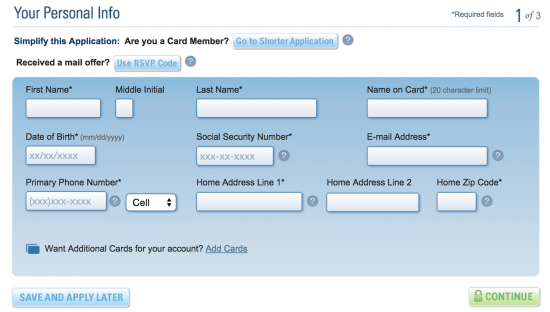 If you would like to add additional cardholders to your Mercedes account, for some reason, you may do so at this point.
Step 2- Financial Information
To secure a low APR submit your financial information here:
Employer name
Employer city/state
Employer phone number
Income source
Total annual income
Bank accounts held
Housing status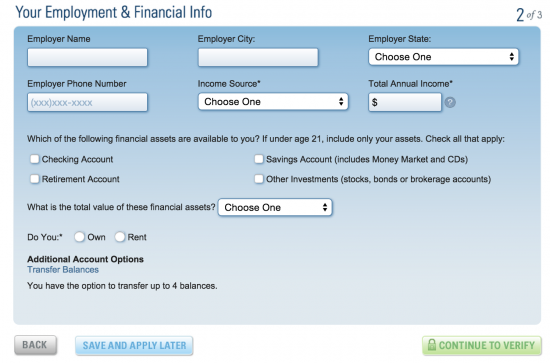 For those looking to consolidate debt you may transfer balances from other credit cards onto this new card at this point.
Step 3- Terms and Conditions
Before finalizing your application by submitting it to Amex read over the terms and conditions here to make sure you agree with all of the fine print.