The simple instructions found within this tutorial will provide you will all the information necessary to get your online banking up and running, which will in turn enable you to more easily manage your newly acquired Union Bank Rewards Visa Card. Towards the bottom of this page, we've explained the card activation and enrollment procedures that you must undergo before online banking is possible. You need only submit some very basic information into Union Bank's secure online portal to register for this e-banking service; the entire process should only take a few minutes of your time. Just below this paragraph, you will find information on how you can log into your online account once you've enrolled in online banking. After your account has been accessed, you can review bank statements, pay bills, transfer funds, and otherwise fully manage your credit card. Get started by scrolling down.
Before proceeding, take a moment to review Union Bank's privacy policy to get a full understanding of how your personal information will be used.
How to Login
In order to access your online banking account, you must navigate to this webpage. There, you should see the Sign In menu in the middle of your screen. Enter-in your User Name and Password before clicking Submit to be granted access to your personalized account.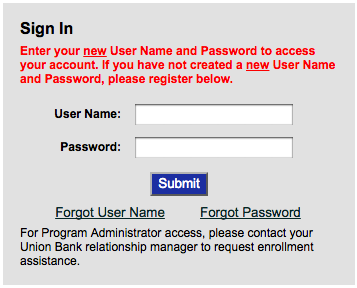 If at any point you forget your user name, click on the Forgot User Name link found below the login fields. On the following page, provide your Credit Card Number, Expiration Date, the Last 4 digits of your SSN or Registration Number, and your Zip Code. Click Next after supplying the requisite information. Follow the instructions found on the next two pages to retrieve your forgotten user name.

To retrieve a forgotten password, click on the Forgot Password link located within the main login menu. In the blank field on the following page, supply your User Name and click Next to continue. Complete the instructions found on the next two pages and you will be able to reset your forgotten password.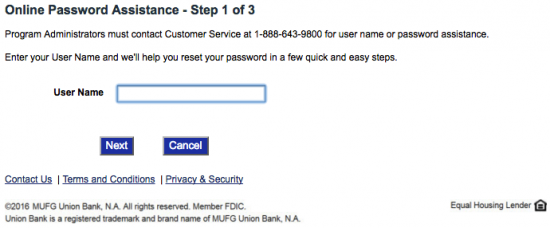 Activation/Registration
Activating your credit card is possible by calling the number located above this paragraph and following the instructions provided by a customer service representative and/or the automated messaging system. Once your card is ready for use, you may proceed to enroll in online banking by clicking on the Secure registration link found just above the activation number. Provide your Credit Card Number in the empty field on the enrollment page and click Submit to continue. The subsequent pages require you to choose a user name and password for your account before finalizing your enrollment. Once you've navigated to the end of the enrollment pages, your account should be set up and ready to be used at your own convenience. Happy banking!