Stanford Federal Credit Union (SFCU) now offers a better online banking experience that includes new features and an easy-to-use web and mobile platform. Cardholders of the Stanford Federal Credit Union Classic Visa Credit Card will be happy to know that it takes no time at all to sign up for an online banking account. If you're new to online banking, we have provided instructions below to help guide you through the enrollment process, as well as how to log into an existing online account. Once logged in, you'll be able to access a variety of financial tools and perform a variety of basic banking tasks that you would otherwise have to complete at your nearest branch or over the phone with a customer service representative. If you're ready to learn about SFCU's online banking platform, scroll down and follow our short tutorial. We also provide instructions on how to activate your new Stanford Federal Credit Union Classic Visa Credit Card.
Before submitting anything into their website, read through Stanford Federal Credit Union's privacy policy to find out how your personal or financial information may be used.
How to Login
To access your online banking account, navigate to the SFCU homepage and locate the login area at the top of the screen. Enter your User ID and Password in the fields provided and click Log In. As long as you have entered your ID and password correctly, you should be staring at the main page of your online banking account.

If you can't remember your password, there is an easy procedure you can go through to retrieve it. Click the Forgot Password? link within the login area on the main SFCU page, provide your User ID and click Submit to proceed. On the subsequent pages you will be shown exactly what you need to do to recover your forgotten password and in turn regain access to your online account. If your user ID is forgotten, you will have to contact SFCU at 1 (888) 723-7328 and they will help you get back into your online bank account.

Activation/Registration
In order to start using your new Stanford Federal Credit Union Classic Visa Credit Card you'll need to activate it first. To do so, call the number we have provided above and a customer service representative will walk you through the activation process. With the activation process out of the way, it might be a good time to enroll for an online banking account with SFCU. To begin the enrollment process click on the Secure Registration link below the activation number. Enter your Last Name, Social Security Number, Date of Birth and create a Login ID. Click Continue to proceed to the next step. The subsequent pages will ask for further information about your credit card and will guide you through the rest of the registration process.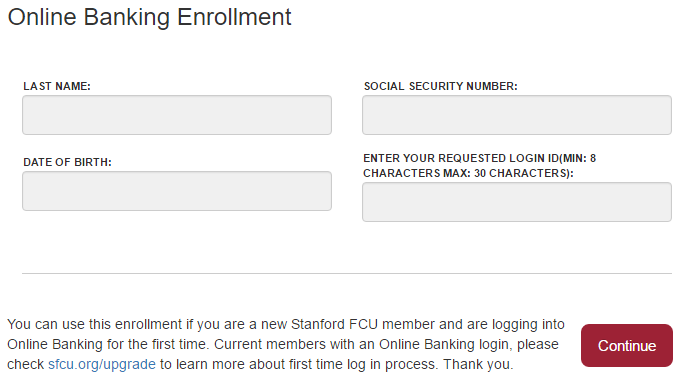 Now that your card is activated and you have created an online banking account, you'll be able to oversee your credit card account as soon as you start making purchases with your card. We hope this tutorial helped make everything a little easier for you. Happy banking!