To make it easier on their clients, Stanford Federal Credit Union (SFCU) offers a fast and easy-to-use web portal designed to take care of all their baking needs. Once logged in to their online account, cardholders of the Stanford Federal Credit Union Platinum Cash Back Credit Card will be able to oversee their credit card account from any mobile device or computer. Users can check their statements, make payments and transfers, and access the abundance of financial tools offered by SFCU. If these technological advancements in banking are intimidating to you, we can help clear your mind of any anxiety you might be experiencing. The instructions provided in our tutorial below will assist you in enrolling for a new online banking account with SFCU or in logging into an existing account. We also provide the number you can call to activate your new Stanford Federal Credit Union Platinum Cash Back Credit Card.
Read through this privacy policy to find out how SFCU might use any personal or financial information you submit.
How to Login
In order to open your online banking account, you will need to navigate to the SFCU homepage. Locate the login area near the top of the page, as shown below, and enter your User ID and Password in the fields provided. Click Log In and, if your ID and password were entered accurately, you should be looking at the main page of your online account.

It's common for people to forget their login credentials, so don't worry if you can't remember yours. If you're having trouble with your password, click the Forgot Password? link under the fields where you would normally enter your ID and password on the SFCU home page. In order to get back into your account, you need to provide your User ID and click Submit. On the subsequent pages you will be prompted to create a new password and will be given further instructions on how to regain access to your account. If you can't remember your user ID, you will need to call SFCU at 1 (888) 723-7328 where a customer service representative will guide you through the account recovery process.

Activation/Registration
You'll find it very difficult to get any use out of your Stanford Federal Credit Union Platinum Cash Back Credit Card without activating it. To complete the activation process, call the number we have provided above. With your Visa activated, it would be a good time to register for an online banking account with SFCU. To begin the registration process, click the Secure Registration link below the activation number. Once the page loads, enter your Last Name, Social Security Number, Date of Birth, create a Login ID and click Continue. The pages to follow will provide further instructions to help you through the enrollment process.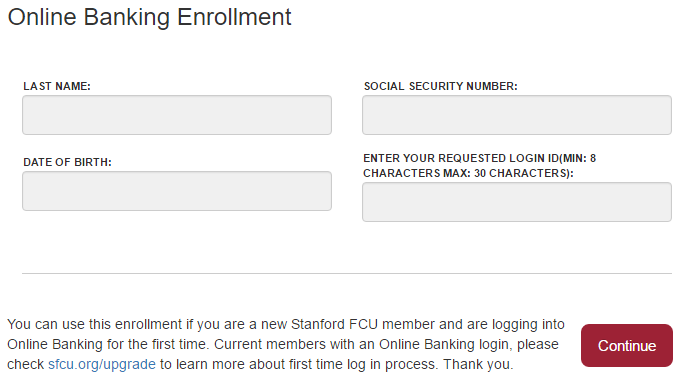 Your Stanford Federal Credit Union Platinum Cash Back Credit Card is now activated and your SFCU online banking account is ready to use. We hope these instructions proved useful to you. Happy Banking!