Those of you thinking of applying for the Stanford Federal Credit Union Platinum Cash Back Credit Card will be pleased to hear that it offers extremely low fees and a very competitive interest rate. Stanford Federal Credit Union (SFCU) has provided cardholders with a cash back rewards program, which presents an opportunity to get cash back while buying all the things you need; school supplies or otherwise. Cardholders earn 3% cash back at all participating Stanford bookstore locations (as well as online) and 1% cash back on all other purchases. Users also benefit by paying no annual fee, no cash advance fee, no balance transfer fee and no foreign currency transaction fee. This a rare occurrence in the banking world, especially considering the APR for this card could be as low 9.24% (for those with excellent credit score). If you're credit isn't up to par, the highest APR you could experience is 17.99%, which is still above average (APR is subject to change). There are also some additional benefits to acquiring this card including auto rental collision, travel and emergency assistance and travel accident insurance, which other SFCU cards don't provide. If you're looking for a card that offers a cash back rewards program, without all the hidden fees, the Stanford Federal Credit Union Platinum Cash Back Credit Card might be the right fit for you. Apply for yours today by following our short tutorial below.
To learn how SFCU shares your information, read through their privacy policy before filling in the application form.
Requirements
Make sure you meet the following requirements before applying for this credit card:
Applicants must be 18 years of age or older
Applicants must have a valid US address
Applicants must have a valid Social Security number
Applicants must be a member or affiliate of Stanford University
How to Apply
Step 1 – The first step of the application process is to navigate to the SFCU application page. There are two links on this page, one for new applications and one for existing applications. Click the word "here" in the first statement to start a new application.
Step 2 – Next, you are presented with a list of loan opportunities. Select Credit Cards from the list and click Apply Now to continue to the application form.

Step 3 – SFCU requires that you provide your First Name, Last Name, Social Security Number and Member Number in order to proceed. If you aren't a member, un-check the box next to Is Member and choose one of the selections from the affiliation drop down menu. Click Submit to continue.

Step 4 – The bulk of the application form lies in this step. In order to proceed you must enter the following information:
Marital status
Email address
Physical address
Start date (day you moved in)
Status (rent, own, etc.)
Home phone
Work phone
Employer
Title (of current work position)
Amount and frequency of payment
Start date (day of hiring)
You may notice that not all the fields are mentioned in the above list. This is because not all the fields are mandatory. However, the more information you enter into the form, the easier it will be for SFCU to determine the validity of your application. Once you are satisfied with the information you have entered, click Next.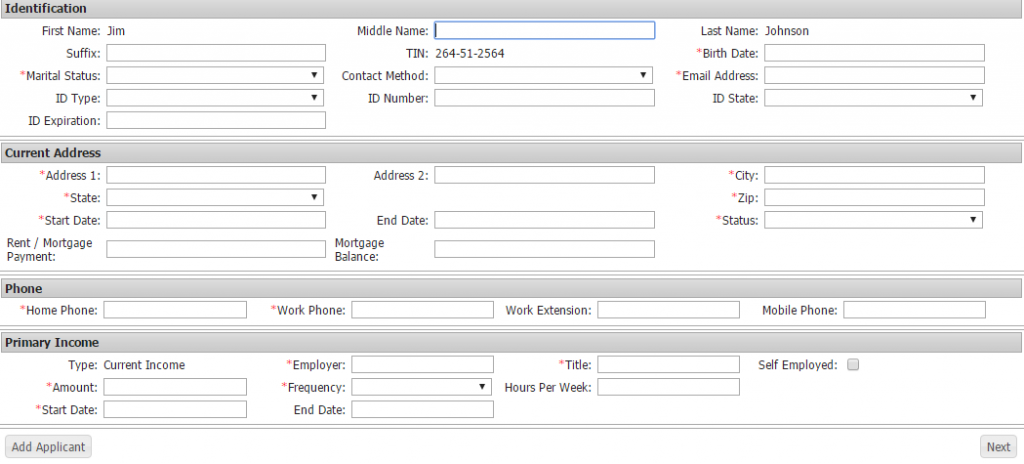 Step 5 – At this juncture you need to provide the Requested Amount of your credit limit, the Purpose of the credit card and the Card Type. The rest of the fields are not obligatory, so provide extra information only if you deem it necessary. At the bottom of the page you will need to authorize a credit report and certify that all the information you have entered is accurate. To do so, check the boxes in the Credit Report Authorization and Terms and Conditions section (once you have read and accepted them). Click Submit once this section is complete.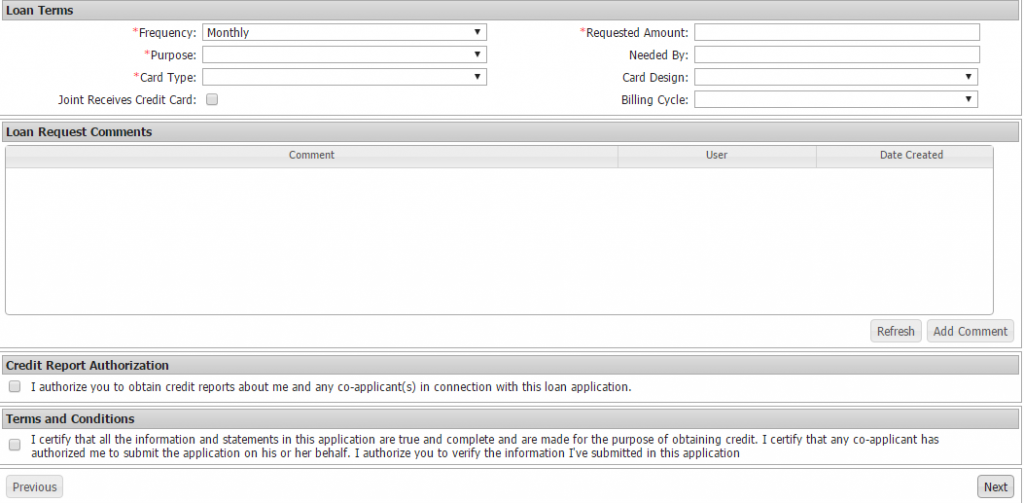 Congratulations! Your application form is complete and will be sent in for review. We hope this tutorial was helpful to you and sincerely hope your application is approved. Best of luck!