We all know how important good credit is, but it's not always easy to achieve. The Stanford Federal Credit Union Secured Visa Credit Card allows you to start improving your credit score without having to worry whether late payments are affecting it. SFCU will use your savings account as collateral so if a payment is missed, you needn't worry about the negative consequences. This card also provides the same services as most other credit cards, without all the bells and whistles. You won't earn any rewards points with this card but you still benefit from a low APR and incredibly low fees. This card offers a 17.99% interest rate for purchases, balance transfers and cash advances (APR is subject to change), with no annual fee attached. You also won't pay any cash advance fees, balance transfer fees, foreign transaction fees and the late payment fee is a mere $7 at most. If you'd like to build or establish a better looking credit history, the Stanford Federal Credit Union Secured Visa Credit Card might be the right choice for you. Follow our short tutorial below to apply for yours today.
It would be wise to look through SFCU's privacy policy to learn how your personal or financial information could be shared.
Requirements
To be eligible for this credit card, applicants must meet the following requirements:
Applicants must be 18 years of age or older
Applicants must have a valid US address
Applicants must have a valid Social Security number
Applicants must be a member or affiliate of Stanford University
Applicants must have a SFCU savings account
How to Apply
Step 1 – To begin the application process, navigate to the SFCU application page. Two statements will appear, one to apply for a new loan and one to check the status of an existing loan. Click "here" at the end of the first statement to proceed.
Step 2 – This page presents a list of loans offered by SFCU. Select Credit Cards from the list and click Apply Now.

Step 3 – Start filling out the application form with your First Name, Last Name, Social Security Number and Member Number. If you do not have a member number, uncheck the Is Member box and select your affiliation to the school in the drop down menu. Click Submit once you are finished.

Step 4 – This step presents the main part of the application form. There is a number of empty fields to be filled out, although they are not all obligatory. Make sure you do provide the following personal and financial information:
Marital status
Email address
Physical address
Start date (day you moved in)
Status (rent, own, etc.)
Home phone
Work phone
Employer
Title (of current work position)
Amount and frequency of payment
Start date (day of hiring)
Once your satisfied with your answers, click Next.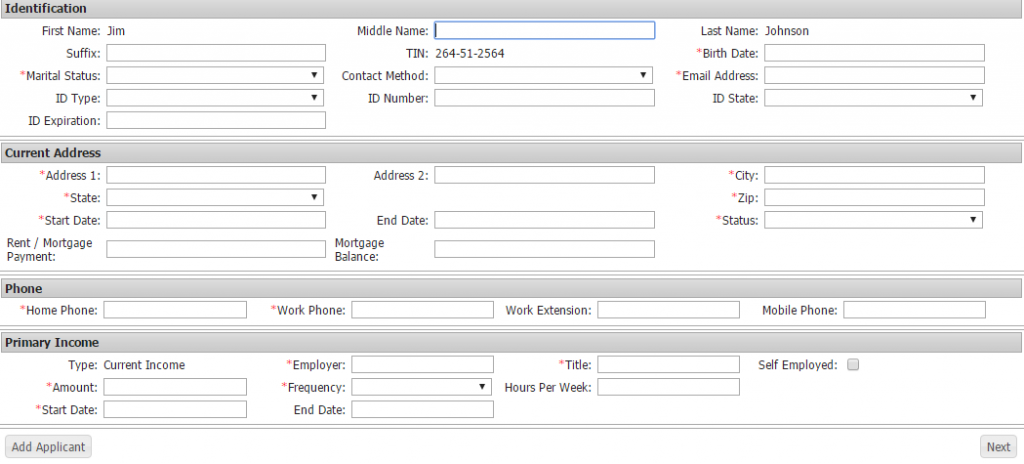 Step 5 – At this juncture, you are asked to fill in the Requested Amount of your credit limit, the Purpose for the credit card and the Card Type. Select the Stanford Federal Credit Union Secured Visa Credit Card from the drop down menu and, if you wish, choose a Card Design. The last section of the application form requires you to authorize SFCU to obtain credit reports about you as well as certify that all the information you submitted is accurate. Read through the terms and conditions, then check the boxes in both the Credit Report Authorization section and Terms and Conditions section before clicking Submit.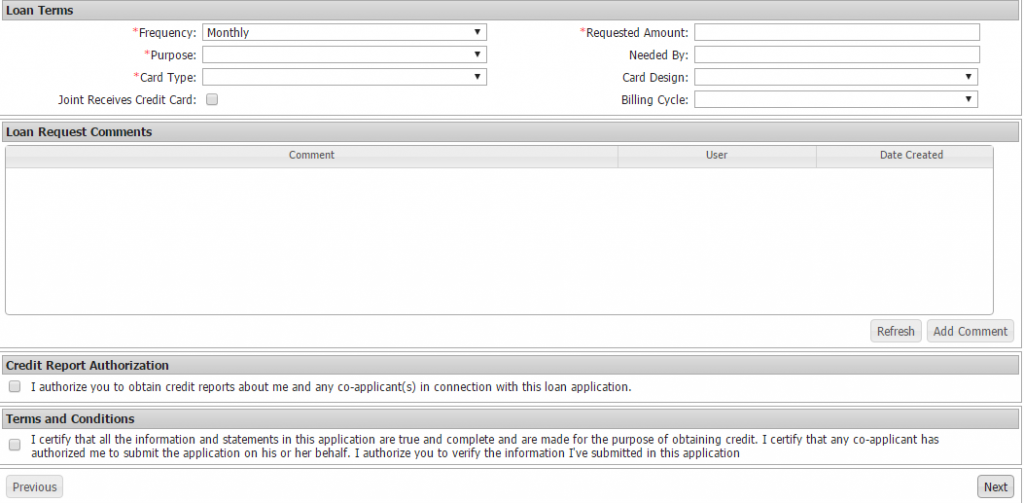 Well done! You've just completed the application form for the Stanford Federal Credit Union Secured Visa Credit Card. We hope our tutorial was helpful to you and we wish you luck in your approval.