The Stanford Federal Credit Union Student Visa Credit Card is a good option for students who need a bit of financial assistance, but don't want to get stuck with endless bank fees. If you need to travel home for the holidays, study a semester abroad or even go somewhere exotic for spring break, this credit card is accepted around the world and comes with no foreign currency exchange rates. Stanford Federal Credit Union (SFCU) goes above and beyond to make sure students don't graduate with any more debt than necessary by offering a low APR and even lower fees. No annual fee, no cash advance fee, no balance transfer fee, no foreign transaction fee and only $7 for a late payment. The APR for this credit card is 17.99%, which is quite average but, fortunately, this rate applies to purchases, balance transfers and cash advances (APR is subject to change). There is a rewards program attached to this card, but it is a very simple and limited one. Cardholders earn 1 point for every $1 spent, and these points can be redeemed for merchandise or travel purchases only. These points do expire, and users are allowed to collect a maximum of 150,000 points per year. The Stanford Federal Credit Union Student Visa Credit Card could be a very beneficial card for a student of Stanford University. If you're interested in applying, but would like some help with the application process, follow our short tutorial below to apply for yours today.
If you'd like to learn how your personal and financial information will be shared, take a look at SFCU's privacy policy before submitting anything.
Requirements
To be eligible for this credit card, applicants must meet the following criteria:
Applicants must be 18 years of age or older
Applicants must have a valid US address
Applicants must have a valid Social Security number
Applicants must be a member or affiliate of Stanford University
How to Apply
Step 1 – Navigate to the SFCU application page and, in the first statement on the page, click "here" to continue. This action will direct you to a list of loans available from SFCU.
Step 2 – To get to the credit card application page, select Credit Cards from the list on the left-hand side of the page and click Apply Now.

Step 3 – Next, you can begin filling out the application form, starting with your First Name, Last Name, Social Security Number and Member Number. If you aren't a member of SFCU, uncheck the box next to Is Member and select your affiliation to the university in the drop down menu. Click Submit once you have made your selection.

Step 4 – This step is where you will fill in the bulk of the application form. Some of the fields are not required, but most of them you will have to fill in. You must enter the following personal and financial data into the appropriate fields:
Marital status
Email address
Physical address
Start date (day you moved in)
Status (rent, own, etc.)
Home phone
Work phone
Employer
Title (of current work position)
Amount and frequency of payment
Start date (day of hiring)
Once you are satisfied with the information you have entered, click Next.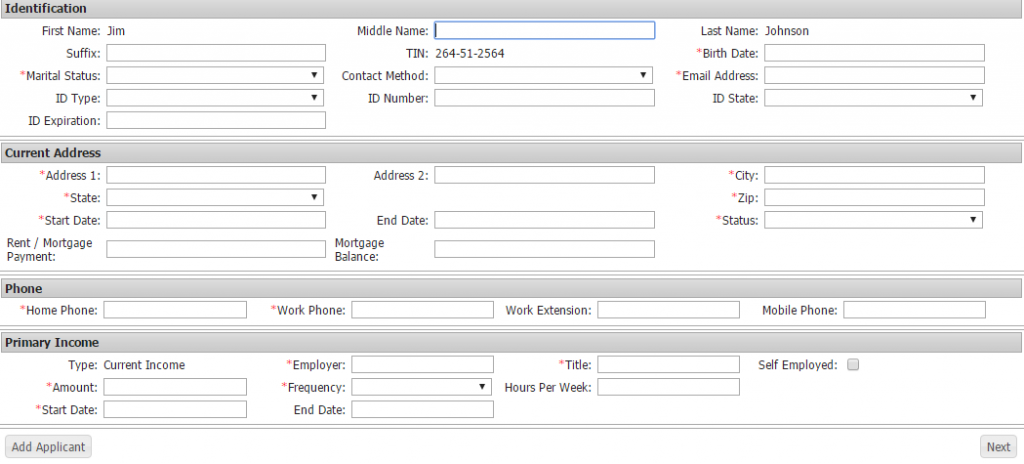 Step 5 – At this juncture, you are given the opportunity to select the Requested Amount of your credit limit and give the Purpose of this credit card. This is also where you can select your Card Type. Choose the Stanford Federal Credit Union Student Visa Credit Card from the drop down menu and then pick your Card Design. Next, you need to check both boxes near the bottom of the page authorizing SFCU to obtain your credit reports and to certify that you have read and accepted the terms and conditions of the card. Click Submit once you have completed this step.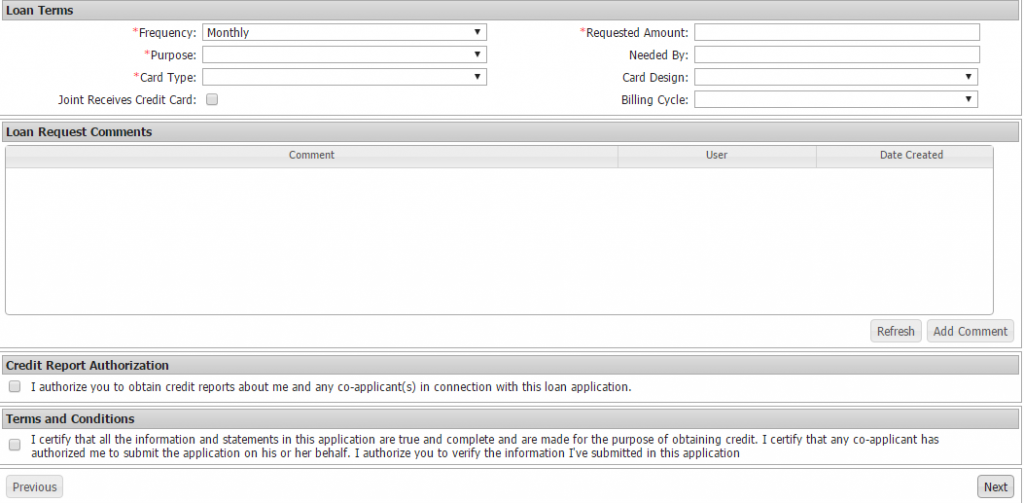 Your application will now be sent in for review. We wish you the best of the luck in your approval and hope these instructions helped guide you through the process quickly and as painlessly as possible.