The Walmart Credit Card is a fairly ordinary card that is intended to make the lives of frequent Walmart customers easier. Customer loyalty is rewarded through the opportunity to use a credit card that has no annual fee and a respectable interest rate for both purchases and cash advances of 19.65%. The only tricky thing about the Walmart Credit Card is that you absolutely must make monthly payments or you will incur a late payment fee of $35. While that doesn't seem much for a one time fee, that $35 can make a real dent in your wallet if it occurs over consecutive months. Individuals can apply for the Walmart Credit Card by going to the application link listed on this page and following the steps provided in the guide we have created. In order to apply, you must have a Walmart.com account. If you do not have an account with Walmart.com already, obtaining one is as easy as entering your name, email address and a password. Just scroll down this page and follow the steps in our tutorial and you will be able to complete the application process with ease.
Before you continue on to the guide it we recommend that you take a few moments to read Walmart's online privacy policy. This information is directly related to how your personal information may be used and protected throughout the application process.
Requirements
In order to be eligible to apply for a Walmart Credit Card, you must:
Be at least 18 years old
Reside in the United States
How to Apply
Step 1- Go to This Webpage, pictured below, and click the Apply Now link.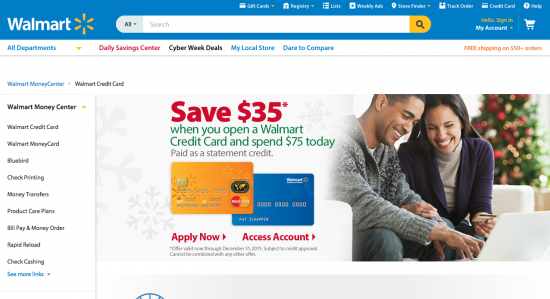 Step 2- Enter your Walmart.com account information and click Sign In & Apply.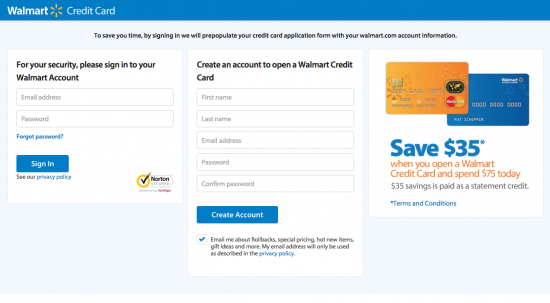 If you do not have a Walmart online account, create one by clicking Create Account & Apply in the right hand box. On the following page you will need to enter the following information before clicking Continue:
First and last name
Email address
Password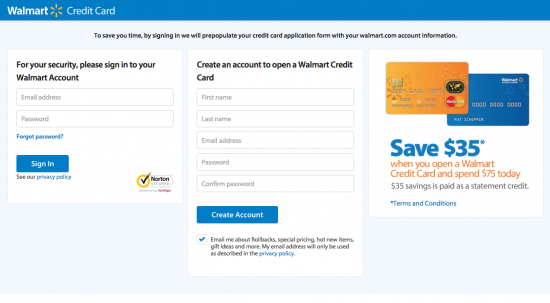 Step 3- Now that you have accessed the Walmart Credit Card application page, you may begin to enter the following information in the available blank spaces:
First name, last name, and middle initial
Address (including city and state)
ZIP code
Home phone
Email address
Annual net income
Years at current address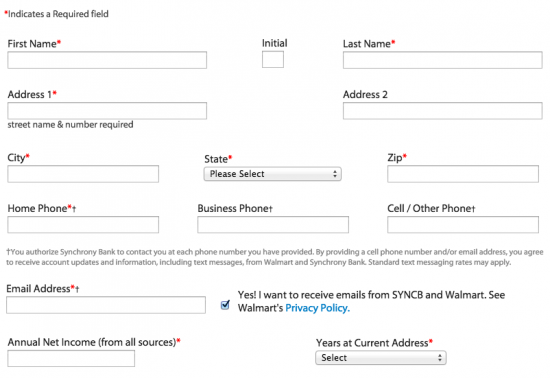 Step 4- Designate your preferred communication preferences.
Step 5- Enter the following information where needed:
Date of birth
Social security number
Mother's maiden name

Step 6- Click the tick box confirming that you have reviewed the Terms and Conditions to officially consent to them. Note that clicking the tick box indicates you consent to receiving updates on your card electronically and that you have the appropriate technology to do so.

Step 7- Finally, click Accept and Submit to finalize the application process.

Once you have completed all seven steps you will have finished the application process for the Walmart Credit Card. We hope that our guide has helped you complete the application with ease.