Cardholders of the Walmart Credit Card are able to manage their credit card accounts online with ease. By simply accessing their online account users will be provided with all the tools needed to pay bills online, review monthly statement history, update contact information, and improve their security settings. Individuals who have newly received a Walmart Credit Card will find helpful information pertaining to logging in, registering for online banking and activating a new card by simply scrolling down.
Before continuing on take a moment to read Walmart's online privacy policy as it explains exactly how your valuable personal information may be used and protected throughout the login and activation processes.
How to Login
In order to login to your Walmart Credit Card account, you must first access the login homepage, pictured below. Enter your User ID in the box underneath User ID. For easier access on return visits, click on the box next to Remember Me.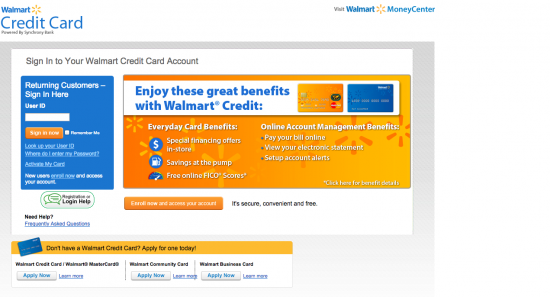 You will enter your password on the following page. After logging in, you will be able to pay your bill online, view your electronic statement, and set up account alerts.
If you have forgotten or misplaced your User ID or password you can retrieve it by first clicking the Look up your User ID on the main login page. You will then be required to enter your account number and the last 4 digits of your social security number before clicking the Next button to begin the retrieval process.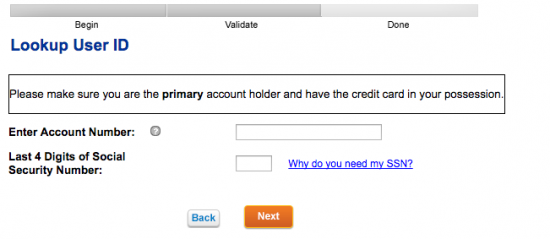 Activation/Registration
You have two options when it comes to activating your Walmart Credit Card and registering for an online account: you can either call the activation number provided above or complete the process online. In order to activate your newly received Walmart Credit Card online, first go to the secure activation page by clicking the Secure registration link provided above. If you already manage any Walmart finances online, enter your User ID on the left side of the page beside the orange Login button. If you don't already have a User ID, which will assume you do not, click on the orange Register and Activate button on the right.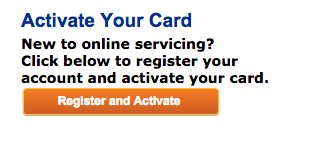 On the next page enter your account number in the space provided. Please note that in order to activate the card, you must be the primary account holder and have the Walmart Credit Card in your possession. After entering your account number, click the orange Next button to proceed with the activation process.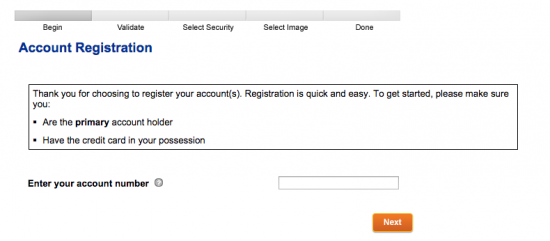 You will then need to validate your status as the main cardholder, select your security preferences, and select a security image before the activation process can be completed. For those that had previously been without an online account, you have now finished the process for both activating your Walmart Credit Card as well as setting up an online account from which you can manage your Walmart Credit Card in its entirety.