Unlike most other credit card providers, First Premier charges a fee to manage your account online. If you are one of the poor individuals who is a cardholder of the First Premier Credit Card you can manage your account online using the online portal. Once accessed, the online portal will allow you to make immediate online payments, review your monthly statement history, and update your contact information. If you are looking for information on how to login to your online account or how to set one up if you have not done so already, scroll down this page and follow our detailed login/registration guide.
Before you continue we would like to remind all of our readers of the importance of reading the online privacy policy, especially so with a company and card that is as questionable as First Premier. Doing so will inform of you how your personal information is going to be handled throughout the login process.
How to Login
Visit the login homepage, pictured below.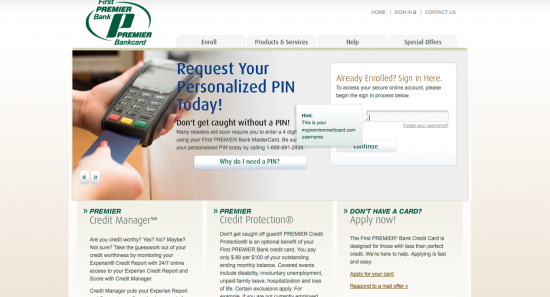 Enter your User ID in the blank space provided and click the CONTINUE button. On the following page you will be required to enter your Password before being given access to your online account.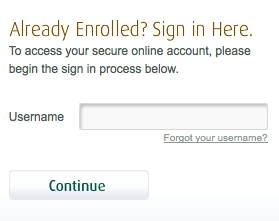 If you have forgotten your Username you can retrieve it by clicking the Forgot your username? link. You will be taken to an information retrieval page that will ask you to enter the following information before clicking the Request User Name button:
Credit card number
Card expiration date
CVV coe
E-mail address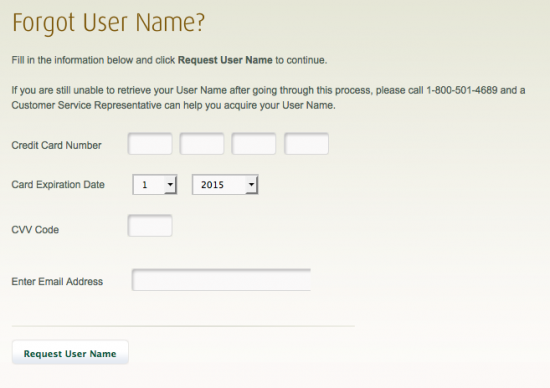 Activation/Registration
If this is your first time viewing your account online, you need to complete a registration process. There is a one-time fee of $4.95 to use this service. You can either complete the registration process by calling the number provided above or by completing the registration process online. To complete the registration process online first click the Secure registration link provided above.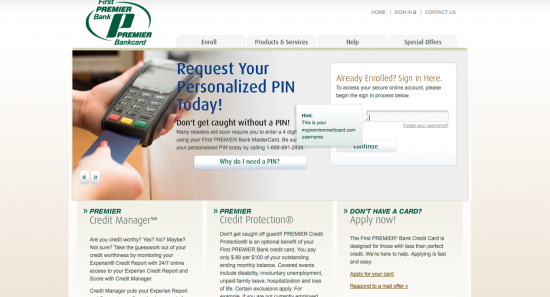 Click on the Enroll tab to begin the activation process.

Provide your account number, Social Security number, card expiration date, home phone, cell phone, and the three-digit CVV code from the back of your card. Enter your desired user name, password, and email address, then scroll down to the bottom to click on the Continue button.